Dr. Bowyer talks fine arts with Marked Tree Rotary
Monday, April 21, 2014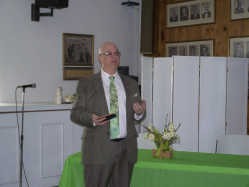 Dr. Don Bowyer, Dean of the College of Fine Arts at Arkansas State University, was this month's guest speaker for the Marked Tree Rotary Club. He spoke to the club about the inherent value art has for people.
"What I'm passionate about right now is why art exists at all and why humans create art," Bowyer said. Bowyer explained that people who lived 30,000 years ago spent a lot of energy just struggling to stay alive, and yet they still found time to produce paintings on cave walls and flutes made of bone.
"We know people were already creating art," Bowyer said. "There's something about being human that drives us to create art. If you give a piece of paper to a child, they're going to start to create."
Bowyer said the College of Fine Arts at ASU was the only one in the state of Arkansas. "Those three departments (visual art, music, and theatre) stand alone as a single function. This allows us to think more about the arts in a different way."
The College of Fine Arts presents over 300 events every year, the majority of which are free, ranging from art exhibits, concerts, plays, and lectures. Bowyer said the college has 42 full-time faculty made up of active artists whose work reaches across the world. Bowyer also noted that in addition to going into art related fields after graduation, many art students also find success in other career fields such as law and medicine.