Tyboogie's Cafe to open in Tyronza
Monday, April 21, 2014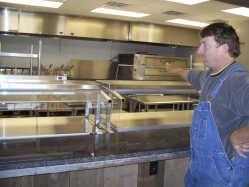 After months of renovation, the old grocery store in Tyronza, which has sat unused for around eight years, will soon be the city's newest restaurant when Tyboogie's Cafe holds its grand opening on Monday, April 21.
The restaurant is owned by Keith and Jill Forrester, who also run Whitton Farms a few miles outside of Tyronza. The first restaurant the Forresters opened was the Trolley Stop Market in Memphis, which they have been operating since 2009. They had been keeping their eye on the old grocery store building in Tyronza, which is on the national registry of historic places, and had always talked about buying it. "In 2012," Keith said, "we knew at that point we wanted to get closer to home, and we knew enough about the restaurant business at that time, it made sense to buy the building. We saw it from a whole different perspective."
Whereas the Trolley Stop Market is a full service restaurant, Tyboogie's will have a serving line with cafeteria style service during the day and an all-you-can-eat buffet on nights and weekends. They will rotisserie chicken and pizza by the slice for lunch as well as a different entree every day from enchiladas to smothered steak or chicken-fried steak. On Fridays, they will serve catfish. And just like the Trolley Stop, a considerable amount of the produce at Tyboogie's will come from Whitton Farms.
One of the things Forrester said he was most proud of with Tyboogie's is the flow of the restaurant. With the Trolley Stop, the Forresters based the setup based around what was already there. The building had originally been a nightclub, and they couldn't make too many changes because they were renting. But because they own the Tyboogie's building, Keith said they were able to sketch out exactly how they wanted the flow to be and completely rearrange the building. The kitchen, which can cook for 400 people, is twice the size of the one in the Trolley Stop. And they have added a drive-thru window for pizza pick-up in the afternoon and a covered patio outside that can seat around 75-80 people with an area for live entertainment.
"We're super exicted," Forrester said. "It's been very well received. It created a lot of interest real quick when people saw us in there." He hopes the quick style of service will draw in people from the surrounding communities as well.
And as for where the name comes from, Forrester said Tyboogie's was always his nickname for Tyronza.