Senior center opens in Weiner
Monday, April 21, 2014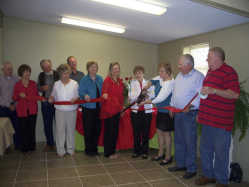 The Cardinal Center, Weiner's new senior citizen center, opened to a packed house Sunday afternoon.
According to Mary Norris, the idea for the senior center started last July when a group of citizens got together to see what they could do for the community. They formed the Cardinal Community Service Group.
The group came up with several goals they wanted to accomplish for the community and decided to focus on building a senior center first. Thanks a General Improvement Funds grant of $8,000 from Rep. John Hutchison, volunteers got to work turning a building across from Weiner Elementary School into a senior center. Norris said the group was able to get a ten year lease on the building, which formerly housed teacher apartments.
Norris said the volunteers put in over 1,500 hours of work to make the center a reality. "This is Weiner. This is how the community works. It always has, and I hope it always will," Norris said.
In honor of the opening for the new senior center, County Judge Charles Nix declared this week to be Senior Citizen Week for Poinsett County.
Norris added she hopes the Cardinal Center becomes an integral part of the community. "We want it to be used. We want it to be part of the community's lifeblood," she said.