Errors plague Lady Wildcats in loss to Armorel
Thursday, April 24, 2014
Ten errors on the Lady Wildcats (6-12) proved costly last Friday as Trumann lost to Armorel 13-4 in high school softball action in Trumann.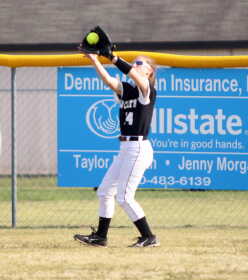 Armorel got on the board first with two runs in the top half of the first inning to make it 2-0 Lady Tigers. Trumann went three up three down in their half. The Lady Tigers added two more in the top of the second to go up 4-0. Trumann was again retired in order in the bottom of the second.
Five errors in the top of third allowed Armorel to score five runs to make the score 9-0. Trumann's offense was still sputtering with another three up three down inning. Armorel made it 10-0 with a run in the top of the fourth. The Lady Wildcats got a run across in the bottom of the inning. MaKayla Hicks was hit by a pitch to start the inning. Hicks was forced at second on Kierra Corter's fielder's choice grounder. Megan McGown ripped a double that scored Corter making it 10-1 Lady Tigers. Trumann got runners to second and third and after a Hannah Wood walk but the runners were left stranded.
Both sides went down in order in the fifth inning keeping the score at 10-1 Armorel. Armorel went down again in order in the top half of the sixth. Trumann threatened to put more runs on the board as Corter drew a one-out walk and McGowan singled putting runners on first and second. A strikeout and pop out left two more runners stranded for the Lady Wildcats to keep the score at 10-1 Armorel.
Armorel tacked on three more runs in the top of the seventh to push their lead to 13-1. Hollie Russell reached on an error to open Trumann's half of the inning. Jasmine Poole singled putting runners on first and second. Chelsea Baine reached on an error to load the bases. Heather Wood drove in Russell with a fielder's choice and Hicks plated Poole with a RBI single. Baine scored on a passed ball to make it 13-4 Lady Tigers. Armorel retired the next three batters to end the game.
Russell took the loss for Trumann pitching giving up nine runs on five hits in three innings of work. She walked one and struck out one. McGowan came on in relief and gave up four runs on one hit while walking four and striking out one.
McGowan had two hits and a RBI to lead Trumann at the plate. Hicks added a hit and a RBI, Poole had a hit and Heather Wood had an RBI. Corter, Russell and Baine each scored a run.