Indians take conference clash with EPC
Thursday, April 24, 2014
Brody McCrary struck out 11 batters for Marked Tree last Saturday as the Indians took an 8-3 win over 2A-3 conference rival EPC in high school baseball action in Lepanto.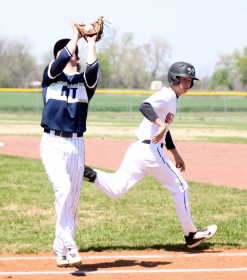 Marked Tree jumped out to an early lead as McCrary single with one out and went to third on a double by Blake Daniels. McCrary scored on a wild pitch and Daniels scored on a passed ball to make it 2-0 Indians. EPC went three up three down in the bottom of the first inning. The Indians were retired in order in the top of the second before EPC cut the lead in half in the bottom of the inning. Clay Malone singled before going to third on an errant throw on a pick off attempt. Byron Scales walked and Chanc Gray brought in Malone with a sacrifice fly to make it 2-1 Marked Tree.
Tevin McGee walked to open the top of the third inning for Marked Tree. McCrary singled to put runners on first and second. Daniels doubled to bring in McGee and make it 3-1 Indians. McCrary and Daniels were left stranded. Aaron Scales singled with one-out and went to second on a balk by McCrary in the bottom half of the inning for EPC. Scales stole third and then scored on a wild pitch to make it 3-2 Indians.
Marked Tree plated four runs in the top of the fourth inning to take a 7-2 lead. Reno Frazier walked to lead off before Daniel Rucker was hit by a pitch. Harmon moved the runners with a sacrifice bunt and McGee walked to load the bases. McCrary plated Frazier and Rucker with a single and Daniels followed with his third double of the game to bring in McGee and McCrary. EPC went down in order in the bottom of the fourth.
Both sides went down in order in the fifth inning. Marked Tree added a run in the top of the sixth as Gilbert drew a two-out walk before stealing second base. Gilbert scored on a throwing error as Frazier reached on a fielder's choice to make it 8-2 Indians. Frazier stole second to get in scoring position but was left stranded on second base. Corbin Truelove drew a one-out walk in the bottom of sixth but was left their after McCrary got back to back strikeouts to end the inning.
Marked Tree went down in order in the top of the seventh before EPC scored a run in the bottom half to set the final at 8-3 Marked Tree. Malone tripled to open the inning and scored on a wild pitch. Quinn Young and Hayden Allen had back to back two-out singles before Aaron Scales popped out to end the game.
McCrary got the win going all seven innings. He gave up three runs on five hits while walking two batters.
Daniels led the Indians at the plate with three hits, a run scored and three RBIs. McCrary also had three hits while scoring two runs and driving in two runs. Frazier finished with two hits, a run scored and a stolen base. Rucker had a hit and a run scored, McGee scored two runs and Gilbert added a run scored.
McKenzie Betts took the loss for EPC pitching four innings giving up seven runs on eight hits. Betts walked three, struck out five and hit one batter. Malone pitched the final three innings allowing one run on one hit while walking one and striking out three.
Malone finished with two hits and two runs scored for EPC. Aaron Scales had a hit, run scored and a stolen base as Young and Allen each had a hit for the Warriors.