Lady Indians suffer conference loss
Thursday, April 24, 2014
Marked Tree took a 5-2 loss in a hard fought 2A-3 conference contest with the Riverside Lady Rebels this past Monday in Marked Tree.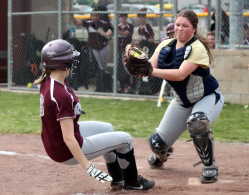 The first three innings were scoreless as Madison Carroll of Marked Tree and Taylor Archer were hooked up in a pitcher's duel. Both team's defense made nice plays during these innings too.
Riverside scored two in the top of the fourth inning to go up 2-0. Marked Tree answered with two runs it the bottom half to tie it at 2-2. Tanna Tacker walked to lead off the inning and scored on an error to make it 2-1 Lady Rebels. Breanna Francis singled before Bailey Dunn walked and Kayli Walker singled to load the bases. Francis scored on a wild pitch to make it 2-2 after four innings of play.
The Lady Rebels came right back with two runs to go up 4-2 in the top of fifth inning. Marked Tree went down in order in the bottom half of the inning. Both team were retired in order in the sixth inning.
Riverside added another run in the top of the seventh inning to make 5-2. Holly Smith single with two outs in the bottom half of the inning before Jay Perry's ground out ended the game.
Carroll took the loss for Marked Tree pitching all seven innings. She gave up five runs on eight hits while walking one with two strikeouts.
Francis led the Lady Indians at the plate with two hits and a run scored. Walker and Smith each had a hit and Tacker scored a run.