Yellowjackts shut out by Ridgefield Christian
Thursday, April 24, 2014
Bay could not find an answer to Chris Beck. The 'Jackets didn't register their first hit until the sixth inning and only got one more hit in the game as Ridgefield Christian School (RCS) shutout Bay 2-0 in 1A-3 East conference action in Bay this past Tuesday.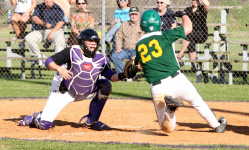 Both teams threatened to score in the first inning as RCS got runners to second and third with two outs before Bay's Nolan Smith struck out the next Warrior. Bay got a lead off walk from Taylor Layne before he stole second base. Nathan Smith reached on error sending Layne to third but both were left stranded as RCS retried the next three batters.
RCS got a run in the top half of the third inning as Trenton Mullins doubled to lead off and scored on a single by Beck to make it 1-0 Warriors. Bay went down in order in the bottom half of the inning. The Warriors end three up and three down in the top of the fourth. Nolan Smith reached on an error for Bay in the bottom of the inning and stole second and third to get in scoring position. RCS retired the next three batters to end the inning.
The Mullins-Beck combination struck again in the top of the fifth inning. Mullins drew a lead off walk and went to second on a passed ball. Mullins scored again when Beck doubled to make it 2-0 RCS. Bay went down in order in the bottom of the fifth.
Bay looked as if they might get on the board in the bottom of the sixth when Nolan Smith doubled with two outs. Jonathan Crain struck out to leave the runner at second.
RCS tried to steal a run in the top of seventh with a double steal but Layne throw's to Nathan Smith was on target to get the runner trying to score from third to keep the score at 2-0 RCS. Jake Crocetto led off the bottom of the seventh inning for Bay with a double. Crocetto stole third before Christian Herrera walked with two outs. Quentin Francomano grounded out to end the game.
Nolan Smith took the loss for Bay giving up two runs on nine hits. He walked two and stuck out seven.
Crocetto and Nolan Smith each had a hit for the 'Jackets.