Murle Smith
Monday, April 28, 2014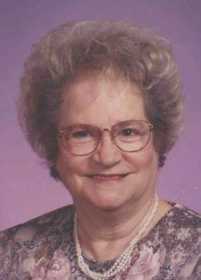 TRUMANN - Mrs. Murle Aliene May Smith of Trumann died Friday, April 18, 2014 at Lakeside Nursing Center in Lake City, Ark., at the age of 86 years, 8 months and 24 days. Mrs. Smith was born Monday, July 25, 1927 in Promised Land Community near Trumann and was a lifetime resident of the Trumann area.She was a housewife and of the Baptist faith. Mrs. Smith was preceded in death by her husband, Henry Ruben "Smitty" Smith and was the daughter of the late Raymond L. and Wilma "Tince" Hammonds May.
Survivors include two daughters, Sharon (Ronnie) Barker of Venice, Fla. and Paulette (P.J.) Harness of Memphis; one son Richard Clem of Cabot, Ark.; two step-daughters, Diane "Dede" Blinkman of Bloomer, Wis. and JoLynn Kendozora of Mount Dora, Fla; two step-sons, David "Butch" Smith of Sister Lake, Mich., and Craig D. Smith of Watervliet, Mich.; nine grandchildren, Tommy, Gary and Joe Barker, Jagger and Griffin Harness, Tony, Chris, Neil and Beth Clem; 13 great-grandchildren and one great-great-grandson.
Funeral services were April 22 in the chapel of Thompson Funeral Home in Trumann, with Rev. Harles Banks officiating.Burial followed in the Jonesboro Memorial Park Cemetery in Jonesboro.
Pallbearers were Tony Clem, Christopher Clem, Neil Clem, Beth Clem, Cory Harness, Ashley Hall and Tommy Barker.
An online register book can be signed at www.thompsonfuneralhome.net