ASUN Chancellor speaks at Marked Tree Chamber Banquet
Tuesday, April 29, 2014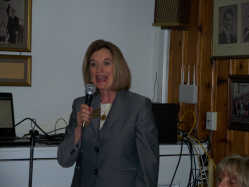 Over 100 people filled First United Methodist's fellowship hall for the Marked Tree Chamber of Commerce's annual banquet on Thursday, April 17.
ASUN Chancellor Dr. Sandra Massey was guest speaker for the banquet. According to Dr. Massey, the United States is ranked 18th in education among 36 industrialized nations. She also listed statistics showing that during 2007-2011, 72.8% of the population of Poinsett County had high school diplomas, compared with the state average of 82.2 %, and an average of 8.9% of Poinsett County residents had Bachelor's degrees, compared to the state average fo 39.6%.
"ASUN is committed to remaining accessible, affordable, and attainable," Dr. Massey said. She said ASUN had seen 250% growth between 2001 and 2011, and the Marked Tree campus increased enrollment by 24% last year. Last year, ASUN was second among all two year colleges in terms of degrees completed. "We want to continue to be a leader and add new programs," she said.
Dr. Massey said one of the most important things to ASUN is the question of where students will go after they graduate, noting the number of students who go on to work in their fields of study after graduation included 70% of Energy Control Technology students, 80% of Automotive Service Technology students, and 90% of Cosmetology students.
Dr. Massey also announced ASUN-Marked Tree had received a $150,000 General Improvement Fund grant to help fund a new Surgical Technology Program. Students will be able to enter the program straight out of high school with no prerequisites and can save around $20,000 at ASUN as opposed to going to Memphis. ASUN-Marked Tree should begin offering the program this fall and will hold an open house for the program in late summer or early fall.
Also at the chamber banquet, Senator David Burnett announced Mayor Mary Ann Arnold would be presented with a Senate citation in recognition of her work for the community.
Chamber member Bonnie Thompson spoke about the chamber's "Change for a Change" project where jars will be distributed to local businesses to collect spare change to help fund landscaping at the underpass. The chamber is also working with the high school to clean up the underpass and paint a mural.
Chamber President Sandy Teague said projects the chamber completed last year included participating in the Fill the Bus campaign, delivering meals to shut-ins during bad weather, collecting coats, joining with Rotary to complete a project to light up the Welcome to Marked Tree sign, sending appreciation baskets to Marked Tree businesses, painting the town blue to support the school, doing yard of the month, and feeding underprivileged individuals during Thanksgiving.
Teague said she wished to thank everyone who participated for making the chamber banquet a success.