Marked Tree completes season sweep of Warriors
Friday, May 2, 2014
For the second time in a week, Brody McCrary was in top form on the mound against the EPC Warriors. McCrary struck out 12 batters and got plenty of run support early as Marked Tree completed the regular season sweep of EPC with a 10-3 win this past Friday in Marked Tree.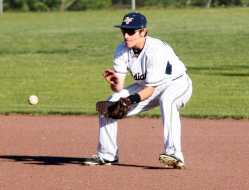 The Warrior's got on the board first as Aaron Scales ripped a triple with one out. Clay Malone brought Aaron Scales in with a double to make it 1-0 EPC. Marked Tree responded with three runs in the bottom half of the first inning. Bailey Gilbert reached on an error and scored on a double off the bat of McCrary to make it 1-1. McCrary stole third base and scored on a sacrifice fly from Octavious Dean to make it 2-1 Indians. Hunter Pitts singled and stole second and third base to get in scoring position. Pitts scored when Hunter Malone singled to make it 3-1 Marked Tree after one.
The Indians added three more in the bottom of the second to go up 6-1. Daniel Rucker led off with a single before Reno Frazier reached on a fielder's choice putting runners on first and second. Rucker stole third and Bailey Gilbert walked to load the bases. McCrary helped his cause with a sacrifice fly that scored Rucker and Blake Daniels plated Frazier and Gilbert with a double.
Pitts walked to open the bottom of the third before stealing second base to get in scoring position. Rucker singled to score Pitts and make it 7-1 Indians. Rucker worked his way to third and scored on a ground out by Frazier to make 8-1 Marked Tree after three innings.
EPC cut into the lead in the top of the fifth inning with two runs. Corbin Truelove drew a one-out walk and went to second on a passed ball. Malone's single scored Truelove with Malone going to second on the throw home. Byron Scales singled to drive in Malone and make it 8-3 Marked Tree after four and a half innings of play.
Marked Tree tacked on a couple more runs in the bottom of sixth to set the final score at 10-3. Daniels led off with a double and went to third when the fielder bobbled the ball. Dean walked before Pitts plated Daniels with a sacrifice fly making it 9-3 Indians. Dean scored on a wild pitch to set the final score.
McCrary got the win pitching a complete game giving up three runs on six hits. He walked to two batters and struck out 12.
Daniels led the Indians at the plate with three hits, a run scored and two RBIs. Rucker had two hits and scored two runs as McCrary drove it two runs. Gilbert scored twice and Pitts scored twice and stole three bases.
Malone was tagged with the loss going three innings giving up eight runs on six hits while walking two and striking out three. Chanc Gray pitched the final three innings giving up two runs on three hits. Gray walked four, struck out three and hit two batters.
Malone collected three hits on the day while scoring a run with two RBIs. Byron Scales had a hit and a RBI, Aaron Scales had a hit and run scored and Truelove scored a run.