Bro Boyd Hosman
Tuesday, May 6, 2014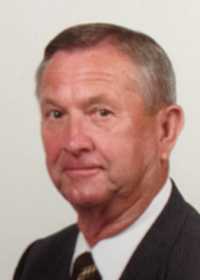 TYRONZA - Bro. Boyd Eugene Hosman, pastor of the First Pentecostal Church of Tyronza died May 1, 2014 at the family residence in Tyronza at the age of 71. He was born in Weona to Earnest Boyd and Lela Mae Privett Hosman. He had lived in Tyronza for the past 41 years and was formerly of Trumann. Bro. Hosman was preceded in death by one sister, one brother and his parents.
He is survived by his wife of 54 years, Nancy Lamons Hosman of the home; two daughters, Sharon (Johnny) Burch of Cordova, Tenn. and Cindy (Jerry) Smith of Tyronza; one son, Brian Eugene (Shannon) Hosman of Tyronza; two sisters, Lois Upton of Jonesboro and Patricia Lindsey of Portia; one brother, William "Bill" Hosman of Jonesboro; six grandchildren, Bradley Smith, Leslie Mullins, Preston Neal, Jessica Nash, Hannah Hosman and Samuel Hosman; and five great-grandchildren, Alexis Smith, Savannah Smith, Noah Mullins, Raelynne Neal and Blaze Mullins. In addition he leaves behind the entire congregation of the First Pentecostal Church of Tyronza where he pastored for 40 years.
Funeral services were May 3 at First Pentecostal Church in Tyronza with Bro. Ricky Forbis and Bro. Bobby Quinn officiating. Burial followed in Harrisburg Memorial Park Cemetery in Harrisburg under the direction of Thompson Funeral Home in Trumann.
Pallbearers were Danny Harper, Shane Wallace, Melvin Hosman, Larry Hosman, David Burrows and Tommy Privett.
An online register book can be signed at www.thompsonfuneralhome.net.