Church plants community garden
Tuesday, May 13, 2014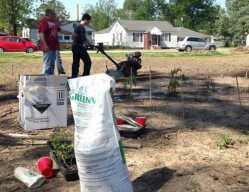 After identifying that some major concerns in the community were food insecurity and the need of healthy eating habits, the United Methodist Church of Trumann began to take action immediately. With that in mind, the church decided to start working on a community garden offering free vegetables and pumpkins to residents.
United Methodist Church's Pastor Jeff Weaver said the day after a meeting of the church's Vision Team and Leadership Table to examine the needs, the mayor had already given them permission to use abandoned lots on Douglass Street near the church for their initiative. City employees cleared the land and tilled the soil for the church to get started.
"It's a need, and part of our ministry is to give," Weaver said.
Weaver added that anyone is able to plant on the lots, and anyone is able to freely take any vegetables that the church has planted. They will also be setting up stands to give the vegetables away once they grow.
"When I told someone about our church doing this, they said 'Pastor, don't you know someone is going to steal all of it,'", Weaver said. "I told them it's not stealing when it is free."
The garden has sparked interest in several community members, wanting to get involved with the planting or donating seeds.
"Its open to anyone that wants it," he said. "We have lots of people asking to get involved. A lot of our youth has gotten involved. It's just our way of giving back to the community."
The church, located at 202 Pine Street, is also offering Zumba classes at 6 p.m. on Tuesday and Thursday nights free to the community. For more information about how to get involved in the garden or the classes, persons may call 870-239-1768.