Community observes National Day of Prayer
Wednesday, May 14, 2014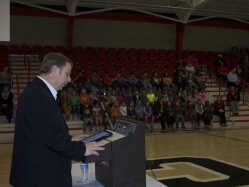 Residents all over Poinsett County gathered together on Thursday, May 1, to observe the National Day of Prayer. In Lepanto, hundreds of students and community members met in the EPC gym to participate in the observance.
Daniel Nooner, pastor of Revival Center Church in Lepanto, read a passage from Ezekiel 37: 1-10 and spoke to those gathered. "I'm thankful to Mr. Williams and the school system for allowing us to have this here. We are blessed to be part of a community that loves God," Nooner said.
Nooner encouraged students to come together and make a difference. "Young people, you can be the one to make a difference in your community," Nooner said.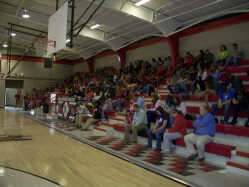 During the observance, prayers were led by Anna Claire Williams, Anna Leigh Powell, Paul Pilgrim, and Melissa Baldwin.
District Judge Ron Hunter and Sheriff Larry Mills also spoke about the role of prayer in their lives.
"I pray every day," Hunter said. "My prayers are for guidance and wisdom. I want you to know that and where I personally stand."
Mills said he prays every day for the country's leaders, youth, and law enforcement. "I make sure to pray for how thankful I am in life and how truly blessed I am," Mills said.
The tradition of observing days of prayer dates back to 1775 when the Second Continental Congress proclaimed July 20 to be a day of fasting and prayer. In 1952, President Harry Truman signed a bill proclaiming a National Day of Prayer to be declared on a date chosen by the current president.