Game and Fish biologist talks St. Francis Sunken Lands WMA with Trumann Lions
Monday, May 12, 2014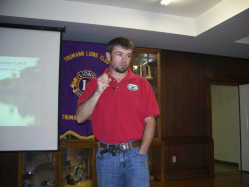 The St. Francis Sunken Lands Wildlife Management Area is unique among WMAs in Arkansas because it has one of the most diverse populations of wildlife. Arkansas Game and Fish Commission biologist Jeremy Brown, who serves as supervisor for St. Francis Sunken Lands and three other WMAs in Northeast Arkansas, told the Trumann Lions Club recently that habitat management is one of the biggest things the Arkansas Game and Fish Commission does at the Sunken Lands WMA.
"We manage for diversity," Brown said. "We have deer, turkey, ducks, fish, quail. That's what makes us different from any other WMA in the state."
Another thing that sets St. Francis Sunken Lands WMA apart is aforestation, or planting trees where trees never occurred. Though creating new forests accounts for less than one percent of AGFC's management of St. Francis Sunken Lands, Brown said it is the first WMA in the state to practice aforestation.
AGFC also protects endangered species on the WMA. Brown said in 2004 a student brought a plant from the WMA to a teacher for identificationm, only to find out it was an endangered species called pondberry. "It turns out we have the largest population of pondberries in the United States, and we didn't even know it until 2004," Brown said. Pondberry is the big endangered species at St. Francis Sunken Lands, but Brown spoke about others as well, saying they have more endangered species than any other WMA in Northeast Arkansas.
Part of managing the WMA involves cutting for timber, something Brown said has only ever been done three times and is only cut for wildlife benefits, not money. Brown said another part of his job involves identifying what needs to be mowed and what growth looks good so species can flourish. They also do open lands management, which is important for turkey and quail. Recreational uses for the WMA include hunting, fishing, wildlife viewing, and camping.
The St. Francis Sunken Lands WMA covers 60 miles and includes over 27,000 acres between the Mississippi River and Crowley's Ridge.