Wildcats tumble in tournament
Friday, May 9, 2014
Trumann (1-16) left seven runners in scoring position stranded on the day and it cost them as the Wildcats fell 3-1 to Cave City in the opening round of the 4A-3 district tournament in Gosnell.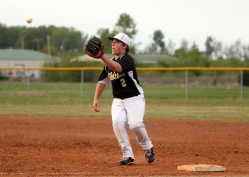 Trumann left two runners on in the top of the first at Taylor Wilson singled with one out and went to third on Dylan Qualls' single. Qualls got to second only to see Lucas Moye ground out to end the inning. The Caveman scored a run in the bottom of the first to go up 1-0. Bradlee McAnally singled to open the top half of the second inning. Kevonte Andrews drew a walk to put runners on first and second with one out. Back to back strikeouts ended the Wildcats chances of scoring.
Cave City added two more runs in the bottom of the third inning to go up 3-0. McAnally singled again to open the to of the fourth inning before going to third on Alex Santos' single. Andrews' sacrifice bunt moved the runners up a base. The next two Wildcat batters were retired leaving the runners on base.
Trumann got on the scoreboard in the top of the fifth as Wilson singled to lead off and scored on a two-out double from Moye to make it 3-1 which ended up as the final score.
Wilson was tagged with the loss as he gave up three runs on eight hits. Wilson walked one, struck out eight and hit a batter.
Wilson and McAnally both finished with two hits as Wilson scored Trumann's only run. Qualls, Hendrix, Santos and Moye each had a hit with Moye adding a RBI on the day.