Lady Indians oust EPC in district tourney
Friday, May 9, 2014
Marked Tree (7-11) and EPC (8-12) met for the third time this season in the first round of 2A-3 district softball tournament in Lepanto. The outcome was the same as the first two, Marked Tree scored five runs in the bottom of sixth inning on their way to a 13-5 win.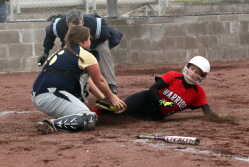 EPC looked to take the early lead as Sarah Tacker and Kaylan Wilson had back to back singles with Tacker going to third on an error in the field. Tacker tried to score on a ground out and was thrown out at the plate. Marked Tree scored four in th bottom half of the inning as Holly Smith and Kelsey Pitts walked and came around to score on a two-run double by Tanna Tacker. Breanna Francis singled and Kayli Walker walked to load the bases. Madison Carroll walked to force in Tacker and Francis socred on Madison Gilbert's fielder's choice to make it 4-0.
EPC got a run across in the top of the second as Ameila Worsham singled before going to second base on a passed ball. Becca Bishop plated Worsham with a single to make it 4-1 Lady Indians. EPC brought Sarah Tacker in to pitch and she was welcomed by a bunt single from Jay Perry. Perry advanced to second on a ground out and scored on a single by Tanna Tacker to make the score 5-1 Marked Tree. Sarah Tacker led off the top of third with a double for EPC and went to thrid on a wild pitch. Wilson plated Sarah Tacker with a ground out to make it 5-2 Lady Indians.
Francis singled to lead off the bottom of the fourth inning for Marked Tree. Francis went to second on a ground out beofre going to third on a passed ball. Walker's ground out scored Francis making it 6-2 Marked Tree. Carroll and GIlbert walked before Carroll scored on a single by Smith to make it 7-2 Lady Indians.
Back to back doubles from Wilson and Lexi Drive to start the top of the fifth inning made the score 7-3 Marked Tree. Stacey Mott singled to put runners on the corner. Driver scored on a ground out by Worsham making the score 7-4. Christin Hinson singled to score Mott the cut the lead to 7-5. Kelsey Pitts reached first after the catcher missed the ball on strike three. Pitts went to second on a passed ball, stole third and scored on an error to make it 8-5 Marked Tree.
Gilbert walked to start the bottom of the sixth and went to second on a wild pitch. Smith reached on an error sending Gilbert to third. Gilbert scored on a passed ball to make it 9-5. Perry bunted for a single and Pitts reached on error that socred Smith and Perry making it 11-5. Francis walked and Bailey Dunn was hit by a pitch to load the bases. Walker drew a walk to score Pitts and Carroll also walked to bring in Francis to make the score 13-5. Pitts set the Lady Warriors down in order in the top of the seventh to end the game.
Carroll got the win for Makred Tree as she pitched five innings giving up five runs on 11 hits while not allowing walk and striking out five. Pitts pitched the final two innings allowing no runs or hits and striking out one.
Perry, Tanna Tacker and Francis all had two hits for Marked Tree with Francis and Pitts scoring rhree runs each and Smith and Perry scoring two each. Tanna Tacker finished with three RBIs as Walker and Carroll each had two RBIs.
Sarah Tacker took the loss as she pitched four and on third innings giving up nine runs and seven hits while walking seven, striking out four and hitting one batter. Wilson pitched one and two thirds innings giving up four runs on two hits. Wilson walked six, sturck out one and hit one batter.