Marked Tree advances to district championship
Friday, May 9, 2014
Marked Tree (15-7) fell behind 4-0 early before a seven run second inning put propelled them to a 9-6 win over Riverside to advance to the 2A-3 district championship game this past Friday in Lepanto.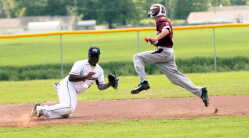 Riverside scored three in the top of the first and added another in the top of the second to go up 4-0. Marked Tree sent 10 batters to the plate in the bottom of the second scoring seven runs to take a 7-4 lead. Octavious Dean singled to start things off for the Indians. Bailey Gilbert walked before Dean stole third and scored when the throw was off mark and went into the outfield. Rucker walked and stole second on the back end of a double steal with Gilbert stealing home on the throw to second. Hunter Malone doubled to score Rucker to make the score 4-3 Rebels with Malone going to third on the throw home. Ricky Harmon plated Malone with a sacrifice fly to make it 4-4. Brody McCrary and Hutner Pitts drew back to back walks before executing a nice double steal. Blake Daniels was hit by a pitch to load the bases. Dean doubled in the gap to clear bases making it 7-4.
Riverside scored two runs in the top of the fourth to close the gap to 7-6. Daniels blasted a solo home run in the bottom of fifth to make the score 8-6 Indians. Reno Frazier singled with one out for Marked Tree in the bottom of the sixth inning and went to third with Harmon reached on an error. Frazier scored on a ground out by Pitts to make it 9-6. McCrary set Riverside down in order in the top of seventh to end the game.
McCrary got the win pitching a complete game. He allowed six runs on 10 hits as he walked four, struck out seven and hit one batter.
Dean led the Indians at the plate with two hits, a run scored and three RBIs. Daniels finished with a hit, two runs and an RBI, Malone had a hit, run scored and a RBI as Pitts scored a run and had a RBI. Gilbert, Rucker, McCrary and Frazier each scored a run for Marked Tree.