Warriors down McCrory in district semi-finals
Friday, May 9, 2014
EPC (17-9) punched their ticket for the 2A-3 district championship game with a 8-5 win over McCrory this past Friday in Lepanto. The win sets up a showdown with county rival Marked Tree.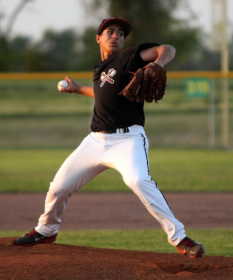 McCrory got on the board first with a run in the bottom of the first inning. EPC took the lead with a three run second inning. Andy Tacker led off with a single and went to second on a passed ball. Byron Scales walked and Chanc Gray singled to load the bases. Kyle Harbin's fielder's choice scored Tacker to make it 1-1. Quinn Young reached on a fielder' choice that scored Byron Scales and Corbin Truelove's ground out scored Gray to make it 3-1 Warriors.
EPC added another run in the top of third as McKenzie Betts walked with one and later scored when Gray reached base on an error making the score 4-1 EPC. McCrory cut the lead to 4-3 with two runs in the bottom half of the inning. EPC stretched their lead to 7-3 in the top of the fourth inning. Truelove singled with one out and Clay Malone singled with two outs to put runners on first first and second. Betts walked to load the bases and Tacker's walk scored Truelove. Byron Scales singled to score Malone and Betts making it 7-3 EPC. McCrory got one run back in the bottom of the fourth making the score 7-4 Warriors.
McCrory cut it to 7-5 with a run in the bottom of the fifth inning. EPC got their final run in the top of seventh as Byron Scales led off with single before stealing second base. Harbin reached on an error putting runners on first and second. Byron Scales scored on the back end of a double steal with Harbin as McCrory tried to get Harbin at second base.
Gray got the win for EPC going five innings allowing five runs on six hits. Gray walked seven and struck out eight. Byron Scales picked up the save pitching the final two innings as he allowed no runs on no hits while walking one and striking out two.
Byron Scales led the Warriors on offense with three hits, two runs, two RBIs and two stolen bases. Tacker and Truelove had a hit, a run and a RBI, Betts scored two runs as Malone and Gray each scored a run.