Perry signs with TRCC
Friday, May 9, 2014
Jay Perry of Marked Tree made it official Wednesday. She will continue her basketball career at Three Rivers Community College in Poplar Bluff, MO. Making the day more special for Jay was her sister, Pooh-nu Perry, signing her letter transferring from the University of Arkansas-Monticello to TRCC.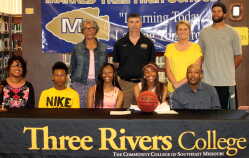 Jay was overcome with emotion after she signed her name on the dotted line. "I want to thank God first for this opportunity I have. Thanks to everybody at Marked Tree who has helped me through the years, my classmates, my friends and my teammates. But most of all I'd like to thank my Mom and Dad for all the support they have given me," Perry said.
Perry has had a banner career at Marked Tree. She's an all-state performer, four time all-region, all-district and all-NEA. Coach Derik Drewett had nothing but praise for Perry. "I've had her since the eight grade and have gotten to watch her grow to where she is today. She'll be missed here at Marked Tree and I wish her the best at Three Rivers."
Perry said she was glad to have the process over with. "I'm very excited and without God I wouldn't be here. I'm happy He gave me the opportunity to continue my basketball career and I'm excited about next season at Three Rivers." The personality of the coach (Jeff Walk) and the players on the team were big reasons for me choosing TRCC," Perry said. Perry said she is happy getting the chance to play with her sister. "When she graduated I thought we had played our last games together," Perry said.
Perry said she'll miss her friends and teammates the most from her days at Marked Tree. "They have been there to cheer me and keep a smile on my face whether it's after a big loss or I"m just not having a good day, they are always there and I appreciate them so much."
Matt Wright, high school principal, said Three Rivers in not only getting a great athlete, but a great person too. "Jay not only excels on the court, but in the classroom as well. She is a great example for those coming up in school behind her," Wright said.