Late rally gives Marked Tree district title
Friday, May 9, 2014
They say it's hard to beat a team three times in one year. That was almost the case Saturday in the 2A-3 district championship between Marked Tree and EPC in Lepanto. The Indians had won the two previous meetings but were down 9-2 in the bottom of sixth. The Indians rallied scoring nine runs to take a 11-9 win giving them back to back district titles.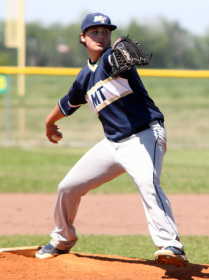 The Indians got on the board first in the bottom of the first with two runs. Brody McCrary walked and Hunter Pitts was hit by a pitch. Blake Daniels singled to scored McCrary and Pitts scored when Octavious Dean reached on an error making it 2-0. EPC answered with two runs in the top of the second inning to tie the game at 2-2. Byron Scales with one out and stole second base. Chanc Gray walked before Kyle Harbin plated Byron Scales with a single. Quinn Young's sacrifice fly scored Gray.
The Warriors went up 4-2 with two runs in the top of the fourth inning. Tacker singled and Byron Scales walked to start things off. Tacker scored on a single by Harbin and Byron Scales scored on a throwing error. EPC added four more runs in the top of the fifth inning. Four straight walks to Aaron Scales, Clay Malone, McKenzie Betts and Tacker plated a run to make it 5-2. Harbin stayed hot with another single to score Clay Malone and Betts making it 7-2. Young singled to score Tacker to make it 8-2 EPC.
Aaron Scales led off the top of the sixth inning with an infield single and went to third when the ball got away from the first baseman. Betts lofted a sacrifice fly to score Aaron Scales to give the Warrior a 9-2 lead. The Indians sent 15 batters to the plate in the bottom of sixth and scored nine runs to take an 11-9 lead. Daniel Rucker was hit by a pitch to start the inning. Hunter Malone reached on a fielder's choice and Frazier reached on error that scored Rucker to make it 9-3 EPC. Ricky Harmon singled to bring in Hunter Malone and Frazier making it 9-5. McCrary walked and Pitts reached on an error to load the bases. Blake Daniels doubled to score Harmon and McCrary cutting the lead to 9-7. Bailey Gilbert walked and Rucker reached on another EPC error that scored Pitts to make it 9-8. Hunter Malone singled to score Daniels and Gilbert to give Marked Tree a 10-9 lead. Harmon reached on an error that allowed Hunter Malone to score making it 11-9 Indians.
EPC got two runners on with two outs in the top of seventh inning but a pop out ended the game giving the Indians the title.
Daniels got the complete game win for Marked Tree. He pitched seven innings giving up nine runs on eight hits as he walked seven and struck out six.
Daniels also shined at the plate for the Indians collecting two hits with three RBIs and a run scored. Hunter Malone added two hit, two RBIs and two runs scored as Frazier had two hits, a run scored and a RBI. Harmon finished with a hit, a run and two RBIs.
Tacker took the loss for EPC going one third of an inning allowing two runs on two hits with two walks. Clay Malone started and pitched five innings giving up two runs on three hits while walking two and striking out three. Betts pitched two thirds of an inning in relief allowing seven runs on two hits with one walk and one hit batter.
Harbin was the leader at the plate for EPC with three hits and four RBIs. Young added two hits and two RBIs as Aaron Scales, Byron Scales and Tacker each scored two runs. Tacker and Betts each had a RBI.