Trumann hires new coaches for basketball program
Friday, May 9, 2014
The Trumann School District filled two coaching position this past Monday as they hired Dion Real to head the boys' basketball programs and Justin Williams to head the girls' basketball programs. Real and Williams are both EPC graduates.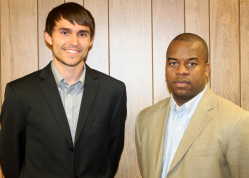 Real graduated EPC in 1999 and has 10 years coaching experience at the high school level and one year at the college level. "I'm big on challenges and one goal is to win a state title. I'm excited to come to Trumann and seeing if we can compete for that title," Real said. Real is approaching 200 wins in his high school career. Real is also a graduate of Lyon College and holds a master's degree from ASU.
Williams is a 2007 graduate of EPC and a graduate of ASU where he served as a student manger on the ladies' basketball team for two years under Coach Brian Boyer. He has been an assistant coach at Marion the last two years. Williams said he looks forward to his first head coaching job. "I'm excited at the opportunity. I'm ready to grow and to grow my craft. I like to play hard nose defense and we will run our offense according to the personnel we have on the team," Williams said. Asked if he remembered Real in school Williams said, "Yeah, I was a gym rat and would hang around the gym and he (Real) and the guys let me get in on a game from time to time."
Superintendent Myra Graham was thrilled about the new coaches. "We wanted coaches with a passion for basketball and I think we found them. They talked about their practice plans along with conditioning and weight workouts, but when they said it was all about the kids, we knew we found the right guys," Graham said.