Jessie Heckman
Wednesday, May 14, 2014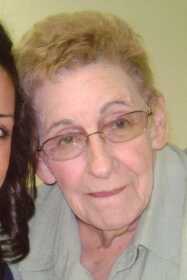 JONESBORO - Jessie Mae (Imogene) Heckmann, 85, of Jonesboro, passed away May 5, 2014 at NEA Baptist Memorial Hospital. She was born October 28, 1928 in Harrisburg to the late Jess and Lillie Gentle Muse. Mrs. Heckmann graduated from McCormick High School and was a cosmetologist. She attended County Line Church of Christ and loved St. Louis Cardinals baseball.
She was preceded in death by her parents; her husband, Billy Heckmann; and her brothers and sisters, Leonard Muse, Grady Muse, Lucille Phillips, and Alma Bell.
Survivors include her two sons, Jerry (Jackie) Heckmann of Little Rock and Brad (June) Heckmann of Jonesboro; three grandchildren, John (Camille) Heckmann of Gulf Breeze, FL, Brian Heckmann of Little Rock and Jessica Heckmann of Jonesboro; a great grandchild, Kinsley Heckmann of Little Rock; and a sister, Georgia Lee Barrett of Harrisburg.
Chapel services were May 8 at the funeral home with William Fortson officiating. Burial followed at Harrisburg Memorial Park.
Gary Rudder, John Heckmann, Brian Heckmann, Aaron Bradsher, Bud Johns and Ronnie Everhart will serve as active pallbearers.
Herbert Rudder, Odell Everhart and Larry Adams will serve as honorary pallbearers.
Lasting memorials can be made to the Paragould Children's Home.
Online guestbook: www.rollerfuneralhomes.com