Dog rescuer confronts Trumann City Council
Saturday, May 17, 2014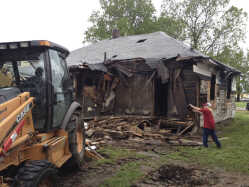 After witnessing what she says is horrendous conditions at the Trumann Pound, Angie Heringer, a volunteer for Arkansas Angels for Animals, started working towards rescuing as many dogs as she could. At this month's city council meeting, she brought a report of how many of the dogs are doing after being rescued.
"With 20 years of experience in animal rescue, I have never seen conditions worse than what these dogs were living in," Heringer said.
She added that she has been asked several times to come to Trumann for an animal rescue mission; however, she was never able to until recently. When she did come, she witnessed dogs living in filth, starving without food or water, and injured.
Although several of the dogs shown to the council were either healing to get adopted or already adopted, Heringer said one of the dogs that she rescued did not make it.
Heringer would have rescued the dogs earlier, but she said she was not allowed in the pound. She asked that something be done to change that to make the dogs more accessible for those who may want to rescue or adopt the animals before they are euthanized.
Several residents of the community also voiced their opinion on the matter, including Brenda Mincy Speakes, who was interested in forming an animal committee of community members for such matters. The residents also requested that the pound be in a more accessible place or open with supervision at least once a week.
Police Chief Chad Henson said the reason the dog pound is not open to the public is because of hazardous conditions that surround the area, including the police shooting range.
"I love dogs. But by law, I am designated to kill these dogs after 11 days. I whole-heartily agree that we need to do something, and I think forming a committee is the right step to get started," Henson said.
Trumann Mayor Sheila Walters showed interest in the animal committee. She took names and phone numbers of residents who were interested in forming one and said a meeting for those interested would be announced. The mayor said local veterinarian Norette Underwood is willing to begin doing assessments of the dogs after 10 days. According to Walters, Underwood will also be taking the dogs in to her own pound if it is "salvageable."
The council also heard from alderman Jason Stewart about Bucket Brigades that are usually located at the red lights on Highways 463 and 63. The town has recently had several; and Stewart said he, along with other alderman, have heard several complaints. After looking into what could be done, Stewart found in Arkansas State Highway Regulations that it is against state law for people to solicit on state highways.
"I know that a lot of people do [Bucket Brigades] for really great causes, but there's nothing that we can do to allow it anymore," Stewart said.
In other business, the council:
*heard from Fire Chief Earnie Link, who presented David Hicks with an award for his service to the Trumann Fire Department. Link said Hicks will be leaving for a different job soon.
*condemned a house at 200 North Ozark. Code Enforcement Officer Gary Anderson said the family that owns the house will be removing it. Public Works Director Scotty Jones said the city has torn down 6 dilapidated houses in the past two months, and they will continue to make improvements as long as funds are available.
*heard from a resident concerned about a ditch on Betty Street. The resident was also concerned about an ordinance that dealt with housing. Walters directed his questions to Jones and Anderson.
*approved an ordinance for the police department to enter into a contract with Human Capital Management.