Students raise money to see principal kiss pig
Sunday, May 18, 2014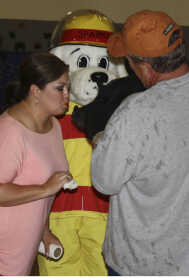 Cedar Park Elementary students raised nearly $1,000 to see their Principal Michael Allen and second grade teacher DeAnn Penter kiss a pig, but it was all for a good cause--The Fallen Heroes Memorial Park.
"We told the students what we were doing, and gave them a few incentives. They started to bring spare change to their classrooms and managed to raise $994 for the project," said David Woods, life-long resident and chairman of the Fallen Heroes Memorial Park committee.
As a retired police officer, Woods began looking into constructing a park as a memorial to honor police, EMS, and firemen in Trumann who have died in the line of duty. After the passing of Trumann Fire Chief Rick Winkles, Woods confronted the Trumann City Council in March with the idea of the park. The project took off quickly, already raising $20,000 toward the total cost of $45,000.
The construction of the park is well under-way, with a groundbreaking ceremony held in March. Woods said as soon as weather permits, Tom's Concrete will begin pouring concrete, discounted by Hedger Brothers Concrete, at no cost to the committee.
The incentives for students to donate to the cause included seeing their principal kiss Benny, a local pig from Fair Haven Farms. Also, the teacher of the class who raised the most money and Fire Chief Earnie Link had to give Benny a kiss on his snout.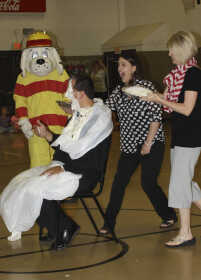 DeAnn Penter, second grade teacher at CPE, was the lucky teacher whose class raised $208 for the cause. To reward her class, the Fallen Heroes Memorial Park committee gave them a pizza party.
"We want to thank the school and teachers for everything they did, and we also want to give a special thanks to Fair Haven Farms for letting Benny be with us today," Link said.
Link added that Fair Haven Farms, 16750 North Ozark Avenue, provides permanent care for rescue animals, and he encourages residents to consider donating to the farm for all they bring to the community.
For anyone wanting to donate to the Fallen Heroes Memorial Park project, accounts are set up at Unico Bank and Southern Bancorp. For more information on other ways to get involved, persons may contact Earnie Link at (870)284-0985 or David Woods at (870)329-3459.