EPC falls in regional semis
Friday, May 16, 2014
EPC's (20-12) offense could only muster one run on four hits against Walnut Ridge as they fell 3-1 in the semi-finals of the 2A North Regional baseball tournament in Lepanto.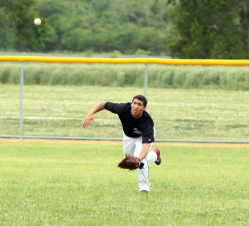 The game was scoreless over the first three and a half innings of play. EPC threatened to get on the board in the top of fourth. Clay Malone reached on an error and advanced to second on the bad throw. Andy Tacker singled to put runners on the corner. Tacker stole second before Byron Scales was hit by t pitch to load the bases. Back to back strikeouts of Chanc Gray and Kyle Harbin ended the threat. The Bobcats did score a run in the bottom half of the inning to take a 1-0 lead.
The Warriors got on the board in the top of the fifth inning. Aaron Scales singled with two outs before stealing second to get in scoring position. Malone's single scored Aaron Scales to tie the game at 1-1. The Bobcats plated two runs in the bottom half to make it 3-1 Walnut Ridge.
EPC looked to get some runs in the top of the seventh inning as Harbin walked and Hayden Allen and Matthew Ferguson reached on an error to put runners on first and second. Malone reached on a two-out error to load bases before McKenzie Betts grounded to the third baseman who stepped on third for the final out.
Gray took the loss for the Warriors as he pitched all six innings allowing three runs on five hits. Gray walked two, struck out three and hit one batter.
Tacker had two hits and a stolen base for EPC as Aaron Scales had a hit, run scored and stolen base and Malone had a hit and a RBI.
EPC got to the semi-finals by downing White County Central in the opener 5-2 this past Friday with Malone picking up the win. EPC clinched the third seed in the 2A North with a wild 16-12 win over McCrory this past Monday. EPC will open play in the 2A State Tournament Thursday at Woodlawn.