Marked Tree finishes as runner-up in regional tourney
Friday, May 16, 2014
For the second game in a row a Poinsett County team ran into a Walnut Ridge pitcher who was in command of his game. EPC on Saturday and Marked Tree (17-8) this past Monday as the Indians offense only produced three hits and one run as they fell to the Bobcats 6-1 in the 2A North Regional championship game in Lepanto.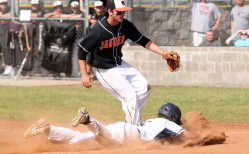 Marked Tree looked like they were gonna strike first as Brody McCrary was hit by the first pitch of the game. Hunter Pitts' sacrifice bunt sent McCrary to second before McCrary stole third base. Blake Daniels drew a walk putting runners on the corners but back to back strikeouts ended the scoring chance. Hunter Malone doubled with one out in the top of the second inning but was left stranded.
Daniels doubled with two outs in the top of the third but was he was also left stranded. Walnut Ridge plated two runs in the bottom half of the inning to go up 2-0. Bailey Gilbert tripled to start off the Indians top of the fourth inning. Rucker followed with a walk and a perfect double steal allowed Gilbert to score cutting the Bobcats' lead to 2-1. Again Marked Tree left a runner in scoring position as Rucker was left on second base.
Walnut Ridge increased their lead to 5-1 with three runs in the bottom of fifth inning and added another in the bottom of sixth making it 6-1.
Malone was tagged with the loss going six innings giving up six runs on seven hits. He walked three, struck out four and hit a batter.
Gilbert finished with a hit, run scored and a stolen base as Daniels and Malone each had a hit. McCrary and Rucker had a stolen base each.
The Indians got to the championship game with an 11-3 opening round win over Sloan-Hendrix and a 10-9 win over McCrory. Gilbert scored on a passed ball in the bottom of the seventh inning for the game winning run against McCrory.
The Indians will play in the 2A State baseball tournament that starts Thursday at Woodlawn High School in Rison.