Special Olympics torch goes through Trumann
Friday, May 23, 2014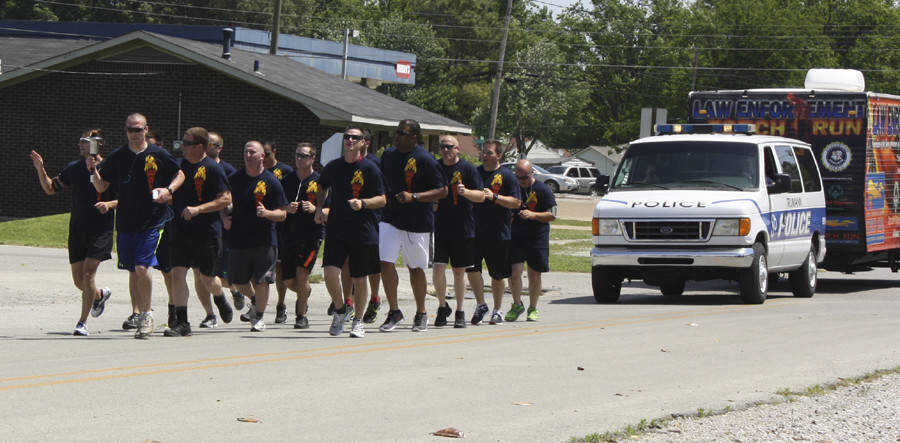 The Trumann Police Department completed their part of the Special Olympics Torch Run on Tuesday, May 20, by running through the town and making a special stop at Cedar Park Elementary school.
"Since its inception in Kansas City, Law Enforcement has been the 'Guardian of the Flame' for the Special Olympics," Trumann Police Department Chief Chad Henson. "Law Enforcement take this role very seriously."
The Special Olympics are held every year for children and adult athletes with intellectual disabilities.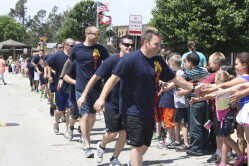 The financial need and burden on the families to send their athletes to the State and Area games of the Special Olympics inspired law enforcement to help volunteer their time with fundraisers and ceremonies throughout the year.
Henson has helped with the Special Olympics for 10 years in Craighead county. In 2012, when he started working for the Trumann Police Department, Henson noticed that there was little to no fundraising or awareness for the cause in Poinsett County.
"This year, we will change that," Henson said.
He helped revamp the run in Craighead County three years ago by changing the route from county roads to area schools with the Special Olympic Athletes.
"There, the other students can see these athletes interact with Law Enforcement," the chief said. "The hope is to break down the walls the athletes have to endure during their day and make the students and teachers aware of the Special Olympics."
Officers did just that on Tuesday, with hundreds of students from Cedar Park lined up in front of the school watching nearly 20 officers run by with the torch. Officers interacted with the enthusiastic students by making sure they greeted each one with a high-five.
In the coming years, Henson said they hope to add Harrisburg, Lake City, Westside, and the smaller schools in Jonesboro to the route. This year, the run consisted of visiting a few Jonesboro schools, Brookland and Trumann.
With the Torch Run being the grand finale of this year's fundraising and awareness campaign, local law enforcement managed to raise nearly $8,000 with fundraisers such as "Tip-a-Cop" and "Cops-on-Top."
"My experience and outlook on these athletes and people is simple: If we can treat each other the way they treat one another and us...what a special world we would live in," Henson said. "They are so happy to win, but more importantly, they are even happier when others win. They appreciate everything."