EPC students help with Mayflower clean-up
Sunday, May 25, 2014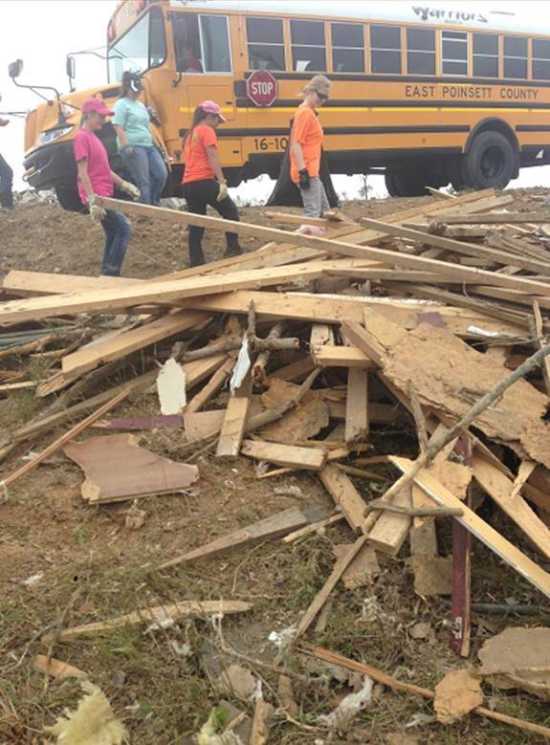 EPC students had an eye-opening experience earlier this month when they took a trip to Mayflower, Ark., to assist in the clean-up effort following the devastation caused when the town was hit by a tornado on April 27.
Seventeen students helped with the clean-up on Thursday, May 8. One of those students, Paul Pilgrim, said he wanted to help because Mayflower was so close to home. "You hear about this in other places but never think about it being right up the road," Pilgrim said. "We saw a need for help. We saw a need for supplies and volunteers, and we had both."
Jamie Carpenter, who teaches Social Studies at EPC, said the volunteer trip was the students' idea. Students met with teachers to ask if they could go, organized the trip, made contacts in Mayflower, and organized a donation drive to collect supplies. "This really demonstrates our community supporting another community," Carpenter said. "Lepanto and Tyronza both stepped up."
The students were shocked when they arrived in Mayflower and saw the devastation. "Houses were completely gone," Pilgrim said. "It was mindblowing that one person could lose everything while someone else's house was completely intact."
Another student, Stacey Mott, said seeing the remains of so many homes was a strange feeling. "You could tell those people had lives there," Mott said. And the evidence of previous lives was all around. Mott talked about seeing a car seat hanging out the back window of a van and seeing the phrase "God Bless Us" spray-painted on a safe room door.
The students said safe rooms were frequently all that remained of houses. "Some houses were flat with just a safe room," Mott said. "I thought about what it would be like going in that room, coming out, and there's nothing but the safe room left."
"I couldn't believe how much damage was caused," said Seth Lacy, one of the student volunteers.
In addition to cleaning up debris from two damaged homes, students also took supplies donated by residents of Lepanto and Tyronza to the tornado victims. "When we gave out the donations," said Amelia Vorsham, another student who volunteered on the trip, "some people didn't want to take them because they felt someone else needed them more."
Students worked for four hours that day and were fed lunch by a local Church of Christ. They said they came away from the day very thankful for what they had.
Carpenter said club officers were eligible to go on the trip and the volunteers included class officers and students involved in National Honors Society, Student Council, Men of EPC, and Ladies of EPC. "The students were very humbled by the experience and would love to make future trips to assist people in need," Carpenter said. "It was a very rewarding experience for all who participated. The students would like to thank Mrs. Rosemary Nichols for driving the bus and all who gave donations and made it possible for them to make this trip."