Edna Busby
Wednesday, May 28, 2014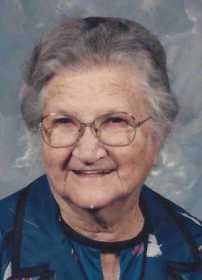 TRUMANN - Mrs. Edna Elizabeth Busby, 94, of Trumann died May 22, 2014 at St. Bernards Medical Center in Jonesboro. She was born in Deckerville and had lived in Trumann since 1946 and was formerly of Harrisburg. Mrs. Busby was a housewife and of the Pentecostal Faith. She was preceded in death by her husband, Pastle Busby; three children; four sisters; four brothers; and her parents, Larry and Lettie Castleberry Baine.
She is survived by two daughters, Patsy Goodwin of Delaplaine, and Marie Richie of Trumann; eight grandchildren, Peanut Hilliard, Amy Hilliard, Ricky Goodwin, Sheryl Selby, Phillip Goodwin, John Hill, Amanda Pippinger and James Daniel Busby; 16 great-grandchildren; and 17 great-great-grandchildren.
Funeral services were May 24 at the Church of God on Birch Street in Trumann with Bro. Don Simpson and Bro. Albert Jenkins officiating. Burial followed in Nettleton Cemetery under the direction of Thompson Funeral Home.
Pallbearers were Peanut Hilliard, Brandon Hilliard, Phillip Goodwin, Ricky Goodwin, John Hill and Billy Hankins. Honorary pallbearers were Robert Pippinger, Joshua Henry, Cameron Lawrence and Cody Goodwin.
An on online register book can be signed at www.thompsonfuneralhome.net.