Trumann lifters do well at meet
Thursday, May 29, 2014
Six lifters from Trumann recently participated in a bench press (BP) and deadlift (DL) competition at Arkansas Muscle Gym (AR-M) in Jonesboro. Lifters from Tennessee and Kentucky were also there to participate.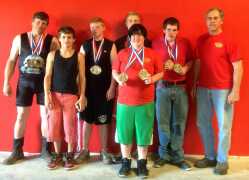 Charlie Brooks, in his first weight lifting contest, placed first in both events as he lifted 185 pounds in the BP and 350 in the DL. J.C. Barnes lifted 130/BP and 260/DL and Willie Hanna got 120/PB and 250/DL. Brad Floyd got 205/BP and 360/DL as Darrell Williams lifted 130/BP and 260/DL.
Ongilea Ross, competing in the female division, got 95/BP and 285/DL.
Travis Knight, owner of AR-M, got Men in Black Tuxedos, Firehouse Subs, Strong Arm Appliances and Point Blank Performance to sponsor the Trumann lifters.
Tom Morgan, a teacher at Trumann Intermediate School, is the coach.