Memorial Day observed in Trumann
Friday, May 30, 2014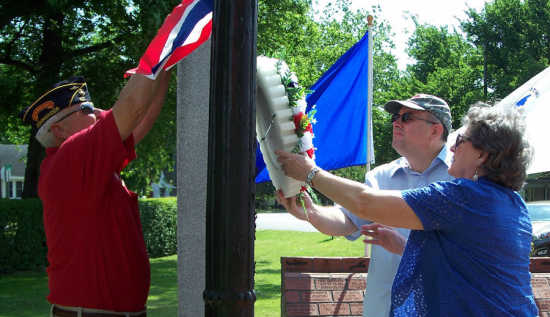 Trumann residents gathered at the American Legion Memorial Park Monday to pay respect to those who gave their lives in service to their country.
This year's Memorial Day service marked the first time a husband and wife were featured as guest speakers. First Sergeant Jody Schraeder has 25 years of military service, and his wife, Master Sergeant Melissa Schraeder has 20 years of military service.
Master Sgt. Shraeder said whenever she looks upon the faces of those who serve in the military, it is a humbling moment for her. "No words can be said to truly understand their sacrifice," she said. "I do my best to thank every veteran I see, regardless fo the campaign because we can't thank them enough."
First Sgt. Schraeder, who is retired, said he lost 12 comrades during the time he served. "Most died far from home, dirty, and in extraordinary pain as we fought for their lives," he said. He also mentioned visiting the Omaha Beach Memorial and seeing the cemetery. He said most of the stones had names, but a disturbing number did not.
"The price of freedom is steep. The age of those who sacrifice their lives is usually young, between 18 and 25," First Sgt. Schraeder said.
Ron Taylor with American Legion Post 42 led the Memorial Day service. "I read this somewhere: don't go to war if you can't take care of your veterans. That's what we've got to do now, take care of our veterans," Taylor said. "Sometimes we don't take the time to say thank you. That's what we need to do."
Betty Payne and Terry Long hung the wreath on the monument. Payne's husband, James Payne, died in Vietnam. Long's uncle, Thomas Long, died in World War II.
The following is a list of all the names on the monument at Trumann's American Legion Memorial Park, which lists all those from Trumann and the surrounding area who gave their lives in military service:
*World War I: Tom Rowlett, Lee Soloman, Willie Francis, and Carl Halford.
*World War II: John Wright, Octavis Easter, James Redden, J.K. Persinger, J. Bartholomew, Jack Orbison, Lloyd Cantrell, J. W. Johnson, Glenn Blackwell, Henry Shores, Alton Stotts, Thomas Long, Enol Arnold, Rudolph Collius, John Forbess, Willie Pepper, Willie Phillips, Eugene Kaisinger, Rubye Edwards, Alfard Ballentine, and Kyle Lassiter.
*Korean War: Clarence Brown, Dewayne Douglass, William Adams, Hershell Qualls, Bobby Matthews, Willard Smith, and Herbert Brock.
*Vietnam War: James Teague, James Payne, Terry Birmingham, James Swink, Bobby Hastings, Aaron Vinson, and David Johnson.
*Iraq War: Erich Smallwood.