Entergy shows appreciation to students
Sunday, June 1, 2014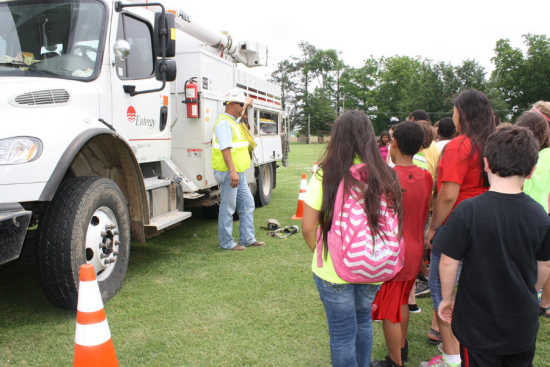 In the middle of a rough winter for linemen, Entergy Arkansas received nearly 30 letters expressing appreciation from Bridget Debow's fifth grade class at EPC Elementary School.
"The kids had seen the linemen all over town and where they lived. One day, we just started talking about all the different things they do and how they would feel to be out there in those weather conditions and working like the linemen," Debow said.
She said this was not the first time they had sent letters to people to show their appreciation, but it is the the first time they have received a response.
David Burnette, customer service manager with Entergy Arkansas in Jonesboro, said he was very touched when they received the letters.
"It thrilled us. The linemen don't often get a lot of thank you's, so we decided we would do something in return to show our appreciation for their time, effort and thoughtfulness," Burnette said.
After scanning all of the letters and distributing them, Entergy Arkansas decided it was appropriate to do a safety demonstration for the students at their school.
Entergy Safety Specialists Chris Brown and Cory Eskew performed the Arcs and Sparks Demonstration, where they showed the real dangers of electricity. Also, lineman Kurt Johnson demonstrated how one of their trucks operate. The linemen gave out gifts, which included a pencil to serve as a special safety reminder.
"When you are dealing with electricity, whether its 120 volts or 500 volts, if you make a mistake, there's no eraser to erase it like with the pencil," Brown said.
The men used the Arcs and Sparks Demo to show what happens when metal fences, tree limbs, water, and animals are in contact with the a live wire.
Tyronza Mayor Marion Bearden also attended the event and expressed her gratitude to both parties involved after reading the letters for herself.
"It takes a lot of time and hard work from linemen to keep things going, especially during the harsh weather conditions," Bearden said. "My heart went out to them when they were working in freezing temperatures. I think its fantastic that the students showed their appreciation. They were so sweet and touching."
The following is one of the student's letters that was read aloud at the presentation:
"Dear Power Company, thank you for getting my power on. Thank you for working in the rain, snow, and sleet to get everyone's power on. When my power came on, I jumped up and down and said thank you, power people. I was so happy. Thank you and God bless you! Love, Amy"
Debow said she had a great group of caring and empathetic kids, and she is very proud of them.