Pastor encourages community involvement
Monday, June 2, 2014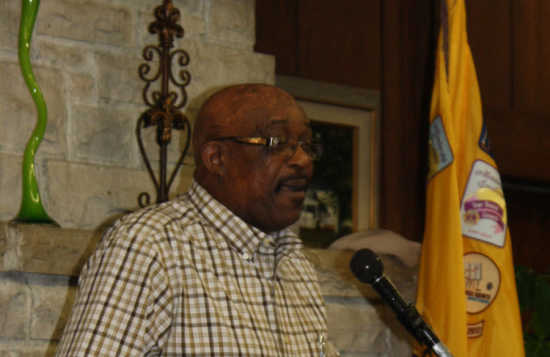 2013 Community Service Award Recipient, Rev. John Booker, was the speaker for the Trumann Lions Club last week with a message to reach out to the youth in the community. Booker is the pastor of Old Landmark Worship Center, 231 Church Street, in Trumann.
"I decided a long time ago to break down the walls the divide us, and help people," Booker said.
The pastor hosts an after school program through his church that provides free meals, tutoring, and activities for children in need. Booker said the program feeds roughly 180 children a day from the Trumann area.
Booker made a special note to thank Trumann School District Superintendent Myra Graham, who has helped by providing low-cost computers to aid in the free tutoring provided by the program.
The church has also recently been preparing "The Ark" for a summer program to keep children involved in enrichment. The program will provide snacks, activities, Bible and life lessons, homework help, and much more. The name of the program comes from the Bible, where the Ark was a place of security.
"I want our program to be a place of security for all children in need," Booker said. "Our goal is to get these children on the right path for themselves and for the betterment of our community."
Booker has also conducted a community coat-drive in the past and a food program during the summer time.
"God has allowed us to do great things here in Trumann, and we hope to do even better things as our mission spreads throughout the community," he said.
He encouraged any who would like to volunteer with the program or donate, to contact the church located at 231 Church Street in Trumann.
Lions Club members donated nearly three hundred dollars to the program.