Mayor Walters seeks re-election
Tuesday, June 10, 2014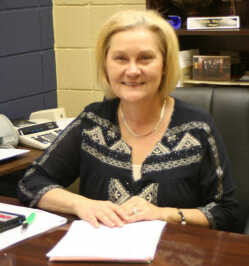 Trumann Mayor Sheila Walters announced this week she is running for re-election. "The City of Trumann is a thriving community and has continued to improve over the past few years," Mayor Walters said.
Among recent city park improvements, Mayor Walters noted Cedar Park received a new Frisbee Golf Course, which is free for public use, Pine Street Park received a new swing set and basketball equipment, and Betty Street Park is currently undergoing repairs.
Walters said a retention pond has helped alleviate flooding on Mulberry Street. Additionally, Brian Street and Balcom Lane have received over one million dollars in grants in 2013.
Mayor Walters stated seven condemned houses will be removed this year, and the city is purchasing a snow attachment to help for the next bad winter. "A new dog pound is currently under construction, and the city is using Facebook to help reunite dogs with their owners or adopt them out to new owners," Mayor Walters said.
Mayor Walters co-founded the food pantry to help citizens improve their quality of life and said the city is also assisting the Methodist Church with a community garden. "The highway department plans to pave Highway 463, and a new light and protective arm will be added to to the railroad overpass on Main St. New housing and businesses are being constructed throughout the city," she said.
"Trumann is a growing community, and by working together, all things are possible," Mayor Walters said.