Lewallen announces candidacy for Trumann mayor
Tuesday, June 10, 2014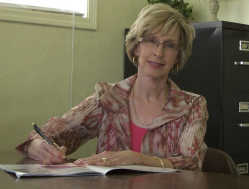 Barbara Lewallen announced this week she is running for Mayor of Trumann in the November 2014 election.
Lewallen, who holds a B.S.E. and M.A. from Arkansas State University, was an educator with the Trumann School District for 32 years. She also held an Arkansas Real Estate Broker's License and co-owned and operated Design Associates Real Estate for 20 years.
Always active in the community, Lewallen has been a volunteer and a member of several civic organizations over the years, including: Century Arts and Civic Federated Women's Club, Trumann Area Fine Arts Council, Trumann Lions Club, Arkansas and Poinsett County Retired Teachers Association, Trumann Chamber of Commerce, and Trumann Industrial Development Commission.
As an active member of civic organizations, Lewallen has been involved in various community activities and fundraisers such as Lions Club's and the Chamber's annual golf tournaments, the Wild Duck Festival, the Fine Arts Council's Celebrity Waiter Dinner, Lions Club's and Chamber's annual banquets, and Lions Club's annual barbeque.
As a volunteer, Lewallen worked with the Chamber to secure grants for the city's detention pond and the proposed Sims-Talbot Adult Education/Workforce Development Facility. She is also on the steering committee for ReNew Poinsett County. During her tenure as an educator, Lewallen was active in school improvement programs and received a Golden Ruler Award in 1992.
For the past two years, Lewallen has served as part-time Director of the Trumann Area Chamber of Commerce. She is married to Col. Dick Lewallen, (Ret.) U.S. Army, who practiced dentistry for over 30 years. They have lived in Trumann since 1963 and have two children and three grandchildren.
When asked why she is running for the position of mayor, Lewallen said, "My husband and I made Trumann our home in 1963. Throughout most of those years, I have been involved in the community in a variety of ways. Because of my past experiences in education, business, economic development, and community improvement, I believe I can make a positive contribution to the community in which I have lived, worked, and raised a family."