Major Gerald W. Wright
Tuesday, June 10, 2014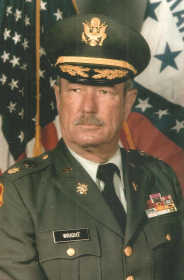 NEWPORT - Major Gerald W. Wright was called Home to be with his beloved wife May 29, 2014.
Major Wright proudly served 4 years in the U.S. Navy, and retired from the U.S. Army after 16 years of dedicated service. Major Wright is a decorated veteran of both the Vietnam and Korean wars, and was stationed all over the world during his time in the service. He realized his dream of college and attained a bachelor's degree at the age of 37. Major Wright and his family settled in Arkansas, and he went on to teach Jr. ROTC at Trumann High School, as well as Newport High School. He also coached the girls track team and 7th grade football during his tenure at NHS. He will be remembered as a man of integrity and dignity, loved by all who were lucky enough to know him.
He is preceded in death by his beloved wife, Jane Wright; parents Vivian and Otis Wright; and his younger brother, Max Wright.
He is survived by his two children, Michelle (Jim) Taylor, of San Antonio, Tex. and Morgan (Bronwyn) Wright, of Hervey Bay, Queensland, Australia; Siblings Rose Mary Coston of Malvern and Jotis Wright of Hughes; Five grandchildren Erin Cox, James Taylor III, Marissa Taylor, Mackenzie Wright and Byron Wright; three great-grandchildren Gage Cox, Scarlett Jane Osborn, and Gunnar Cox; and many extended family and friends.
Major Wright requested graveside services only and was buried with military honors at Arkansas State Veteran's Cemetery in North Little Rock June 3. In lieu of flowers, please make a donation to the Susan G. Komen Fund or St. Jude Medical Center.
Arrangements were by Jackson's Newport Funeral Home. www.jacksonsfh.com