Juanita Guthrie
Tuesday, June 10, 2014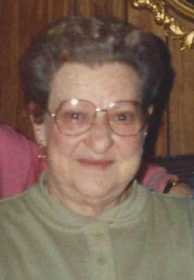 TRUMANN - Mrs. Juanita LaDell Guthrie of Trumann died June 8, 2014 at NEA Baptist Memorial Hospital in Jonesboro at the age of 85. She was born in Trumann and had lived most of her lifetime in Trumann. She was a retired employee of Trumann Wal-Mart Store and a member of Central Missionary Baptist Church in Trumann. She was preceded in death by her husband, Lloyd Guthrie; one son, Dennis Guthrie; one sister, Betty Witt; two brothers, Thomas and David Clem; and her parents, Erby and Bessie Delones Clem.
She is survived by one daughter, Lisa Ivy of Trumann; one son, Ronnie (Marie) Guthrie of Trumann; one sister, Maxine Willis of Dallas, Tex.; two brothers, Robert (Willa) Clem of Fayetteville, and Hollis Clem of Little Rock; seven grandchildren, Derek (Megan) Guthrie, Stacie (Wesley) Steele, Alexandra (Justin) Jones, Christin (Jordan) Brown, Kelly Guthrie, Nikki (Randy) Moore and Brittany Guthrie; and six great-grandchildren, Jace Jones, Jaxson Jones, Hayden Steele, Conner Steele, Brantley Brown, and Harper Brown.
The graveside service was June 11 at Jonesboro Memorial Park Cemetery with Bro. Bill Maxwell officiating.
Pallbearers were Justin Jones, Derek Guthrie, Jordan Brown, Danny Hooker, Joseph Hooker and Gary Willis.
An online register book can be signed at www.thompsonfuneralhome.net.