Storm causes extensive damage in Trumann, power outages throughout county
Thursday, June 12, 2014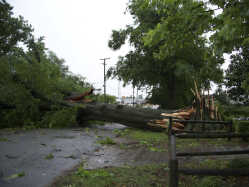 Trumann was the hardest hit town in Poinsett County after thunderstorms swept through the area on the afternoon of Thursday, June 5. Winds reached up to 80 miles an hour and damaged houses and trees all over town. The storm hit Trumann at about 1 p.m. and lasted until 1:30 p.m.
According to Police Chief Chad Henson, large trees were knocked down all over Trumann, completely blocking five streets. Chief Henson said power was out for 75% of the town, including the police station, following the storm.
Mayor Sheila Walters said she knew of at least five houses damaged in the storm, some completely caved in by trees, while shingles were gone from countless roofs. The dugouts at the Sports Complex were damaged, there was a leak at the firing range, and the $240,000 curtains at the sewer pond were damaged. Additionally, the King Transportation building by Country Mart was totally destroyed, and two 18-wheelers on Highway 63 were knocked over by the wind.
A train derailed near Otwell at the Poinsett/Craighead county line. According to the Arkansas State Police, 30 cargo boxes fell from the train and blocked Highway 49, causing detours expected to last until Friday, June 13.
According to Mayor Walters, County Judge Charles Nix has requested disaster assistance. "Our crews worked diligently to get trees off the road for a day or two," Mayor Walters said. She said the city bought chainsaws and a log splitter to remove the fallen trees. "I'm just glad it wasn't worse. We'll be in a clean-up period for an extended period of time," she said. Mayor Walters asked limbs be placed by the curb for pickup and not in ditches.
On Friday morning, Entergy reported 2,721 outages in the county, and Craighead Electric reported 114. Trumann outages were repaired within 36 hours, Mayor Walters estimated. During that time, some downed wires throughout Trumann remained live. Tammy Hill, who lives on Locust Street, said a tree was blown over from across Hattie Street. The tree caught a power line and fell on the fence, blocking Hill's driveway. Hill said she went to her metal gate outside and felt electricity run through her body. She suffered only blisters to her hand. However, she said the wires remained live until late Saturday when a crew came out to repair the lines.
Power was out for all of Marked Tree after a substation went down. City Clerk Pam Wright said a crew worked all night to restore power with a second crew coming in from Cherry Valley to help. Power was restored Friday, June 6, at 10 p.m. Trees fell on two houses in Marked Tree, and a few trees were down around town. "We're still picking up limbs from this winter," Wright said. "It could be a lot worse though."
Power was restored to most of Tyronza the night of Thursday, June 5, after Entergy backfed the city to the Gilmore line. "We're really blessed," said Tyronza Mayor Marion Bearden. According to Mayor Bearden, no large trees were down.
In Lepanto, the wind blew the roofs off some buildings on Greenwood Avenue, damaging Tyler Insurance, Goldsby Library, two vacant buildings and three vehicles. The street was cleared of roof debris by 5 p.m. that day and power was back on by 7 p.m. Mayor Steve Jernigan said some trees were down across town, including a big one at the school, and part of a storage shed at Barton's had blown in.