Area teams capture tourney titles
Friday, June 13, 2014
The Mountain Dew Grand Slam Classic crowned their champions this past Sunday in Jonesboro. NEA Crush, based out of Trumann, won the 8U machine pitch title. Another team with ties to the county, Fireballs, won the 12U title.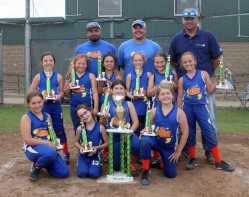 The NEA Crush claimed the 8U machine pitch softball title this past Sunday in dramatic fashion. The Crush scored five runs in their last at bat with no time left on the clock to take a 5-4 win over the Paragould Lightning. It was the third game in a row they had played the Lightning.
The Crush won all three of their games on Saturday to reach the winner's bracket finals. The Crush scored three runs in their final bat to win the first game against the Lightning 9-8 on Sunday. After the Lightning won to force a rematch, the Crush fell 12-6 and were forced into a winner take all final game.
Trailing the entire game, the Crush were down 4-0 coming up for their final at bat. The girls scored five runs with Rylee Bailey's hit scoring Regan McGaughey for a 5-4 win and the title.
Trumann's Bailey, Carlie Hicks and Madilyn Henley along with Mackenzie Thomas of Bay are members of the Crush team.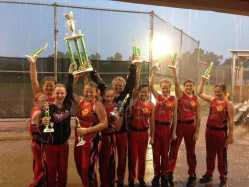 Another team with Poinsett County ties won a title at the tournament. The Fireballs-Hawk, with Trumann players Daly Taylor and Sydney Callahan and Marked Tree players Harley Daniels and Ally Byers, won the 12U title.
The Fireballs-Hawk lost their opening round game of the tournament before fighting their way back to claim the title. Mother nature forced the title to be decided by run differential with the Fireballs-Hawk winning with 33 to the Arkansas Express's 24.
Congratulations to both teams!