Tyronza remembers veterans at Stars and Stripes
Friday, June 20, 2014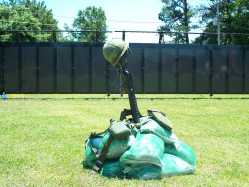 Tyronza's Stars and Stripes Festival had an extra special attraction this year. For years, the Bring the Wall to Tyronza committee has been raising money to bring the Wall That Heals, a half-scale replica of the Vietnam Veterans Memorial, to Tyronza. The wall finally came during this year's 12th Annual Stars and Stripes.
An opening ceremony for the wall was originally scheduled for Thursday evening but had to be moved to Saturday morning due to weather. A large showing of people turned out for the ceremony to pay their respects and kick off the day's festivities.
"It's truly an honor to have the wall here in Tyronza," said Mayor Marion Bearden. "I know the war's been over for 40 years, but right now I want to say to each veteran, thank you for your service. Whether you're a Vietnam veteran or a veteran from another war, you're always welcome here in Tyronza."
Mayor Bearden also said a special thank you to David and Donna Wood, who were instrumental in getting the wall to Tyronza.
Dave Wallace, a Vietnam veteran with the 1st Cavalry Division, served as keynote speaker during the ceremony. "At the wall in D.C., there's a stillness that tells you you're walking on hallowed ground. I hope you feel that today," Wallace said.
Wallace said of the over 58,000 names on the wall, he had ten fallen comrades. One of those was Robert E. Lee Frakes, who was killed one day before the United States' involvement in Vietnam ended. Wallace said they had been sent to rescue some South Vietnamese rangers, and Frakes carried two wounded rangers to his aircraft. Wallace remembers seeing Frakes leaning out his aircraft firing M-60, but the aircraft was hit and went down. Frakes was pinned beneath the aircraft, and they were unable to get him free.
"That's one story," Wallace said. "There's 58,000 more stories on that wall."
Ron Taylor, a Vietnam veteran with American Legion Post 42, said he had over 20 comrades on the wall, 14 of whom were killed in a single day. According to Taylor, 573 Arkansans were listed as Killed in Action in Vietnam, 8 of whom were from Poinsett County, and 22 Arkansans were listed as Missing in Action.
"I can't thank Tyronza enough for what they've done," Taylor said. "You've honored the veterans. A little town this size and you raised the money for the wall. A lot of veterans can't afford to go to D.C. to see the wall. When a town like Tyronza brings the wall here, it means so much. It means you're not forgotten."
Taylor provided the Democrat Tribune with the following list of the men from Poinsett County who sacrificed their lives in Vietnam: Terry W. Birmingham of Trumann, William A. Clifton of Harrisburg, Bobby G. Hastings of Trumann, James C. Payne of Marked Tree, Teddy G. Talley of Marked Tree, James E. Teague of Harrisburg, Jerry A. Truelove of Lepanto, and Aaron Vinson of Trumann.