God's New Life gets fully funded for new roof
Saturday, June 21, 2014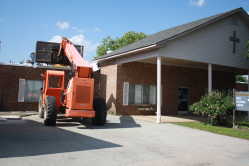 About a year ago, the director of God's New Life in Marked Tree, Gary Still, had no idea how they were going to take on the much-needed project of a new roof. He said the $140,000 estimated cost of the project was bigger than him. Thirteen months later, Still was happy to send out the June GNL newsletter with the announcement that the roof project had been fully-funded.
"By all natural and rational thinking, I should not be able to share this testimony only a year later with you," Still said.
After several donations, big and small, from individuals in the community, churches, businesses, and the help of fundraisers, the ministry managed to complete their project much earlier than expected. When the project began, the initial estimate of a new roof for the 28,000 square foot center was $140,000.
Still said after sharing his concern with the project to David Hartshorn, Vice President of Osment Roofing in Jonesboro, Hartshorn quickly began to share the need with others. When others heard of the need, supplies and labor began to be donated for the project cutting the cost down to only $85,000 needed to be raised by the ministry.
"People began to see the evidence of what God is doing here and were willing to make an investment in it," Still said. "It wasn't about raising the money, it was about God being in our need that brought the community together to get this done."
Marked Tree's God's New Life just recently celebrated its 8th annual graduation ceremony. The ministry has existed as a non-profit non-denominational organization. It is based on discipleship and does not operate as a rehab. They cater to people of all backgrounds and walks of life, including people with drug, alcohol and emotional problematic histories.
There are currently 25 members that reside at God's New Life taking care of themselves and each other. When asked what the current needs of the ministry are, Still said to imagine the needs of a regular family.
"Imagine the needs of a family of five--meat, milk, eggs, electric bills in the summer, and all the other necessities," he said. "Then, multiply that times 5. We are a family of 25 with all of the same needs."
After the roofing project is completed, Still hopes to begin working on funding a new heat and air system for the house.
"We've got history with God. He wants the program here," he said. "If He wants the program here, He will take care of us. It's been an amazing journey thus far where God has taken the least of these, people who were hopeless, and given them hope."