Local farm hosts summer camp
Sunday, June 22, 2014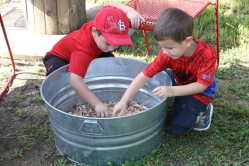 Extensive damage from the recent storms did not stop Fair Haven Farms, 16750 North Ozark Avenue, in Trumann from kicking off their second annual series of two-day farm camps on Monday, June 16, with several children in attendance.
The local petting zoo is owned by Jason and Tabitha Mullins. They began the farm in 2010 with a few dogs, ducks and a rescued donkey. They quickly began to expand as they continued to rescue more and more unique animals. The farm now houses over 250 animals, including pigs, raccoons, horses, chickens, ducks, goats, and more.
Mullins said the main goal of the farm is to provide permanent care for rescued and owner surrendered animals. They also work in the community to promote animal welfare awareness through events like Farm Camp.
Fair Haven Farms' animals travel all over Poinsett County and surrounding areas doing demonstrations for schools, events, private parties, and more. One of the most recent adventures of the farm include sending Benny the Pig to Cedar Park Elementary to kiss the principal--all for a good cause of raising money for the Trumann Fallen Heroes Memorial. They also travel to the 2nd Annual Community Resource Fair, Wild Duck Festival, and the Walk to End Alzheimer's.
This week, they have plans to be at the Trumann School District Parent Center for a small animals exhibit at 1 p.m. on Thursday, June 19.
This is the second year for the Mullins to hold Farm Camp, which is fun for all ages. They plan to have two more camps from 8 a.m. to 3 p.m., July 14-15 and August 11-12. The tuition is $35 each month for two days of outdoor activities, learning, snacks, meals, and more.
The camp is ideal for anyone looking for a little outdoor, summer fun for their children. All proceeds from any and all events go to the care for the over 250 animals that reside at the farm.
Anyone looking to help out with the farm even further can save fruit rinds for the Mullins to pick-up. Tabitha said the animals love them in the summer-time. For more information, the Mullins can be contacted at (870)483-5077.