Scales selected for all-star event
Thursday, June 19, 2014
Byron Scales of Lepanto was selected to participate in the Arkansas High School All-Star football game to be played June 27 in Conway. Scales has mixed emotions about the game.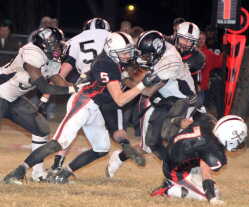 "It feels good to be selected to play in the game," Scales said. Scales played linebacker in high school but said he will play defensive end in the game. "I'm going to do my best," Scales added.
When asked about college scouts possibly being in attendance and hoping to make an impression, Scales' answer shocked me. "I think I'm done with football after this game. It's going to be hard to give up." Scales said he doesn't have an interest in playing football at the next level.
Scales is looking forward to playing against some of the best in the state. "I think I can compete. I'm going to try my hardest and just see what I can do."
Scales was a three-time all-conference and earned all-state his senior year after recording 163 tackles and two sacks on defense while rushing for 602 yards and nine touchdowns and grabbing 23 catches for 451 yds and six touchdowns to lead the team in scoring with 122 total points. EPC head coach Brian Weathers had nothing but praise for Scales. "He has tremendous leadership skills with a tough-nosed approach to hard work, doing it with a smile on his face. He's the true definition of a Warrior. If I were ever hanging by a rope from a cliff and I could only choose one person to have at the other end of the rope, I would select Byron to get me pulled up." "He'll be missed and is unreplaceable!!!"
Congratulations Byron and good luck!!!