Maxie Theater suffers vandalism
Thursday, June 26, 2014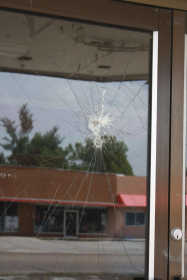 Trumann Police Department Officer Clint Ward was dispatched to the Maxie Theater on Tuesday afternoon in reference to vandalism and theft. The building belongs to the Trumann Fine Arts Council who have been working diligently to raise funds to get the building in working order.
Letha Owens, a board member of the Trumann Fine Arts Council, said there was nearly $3,000 in damage done to Maxie. Someone had removed fencing from the back fence and removed one of the doors to the building housing the air conditioning unit.
According to the police report, several copper wires were cut and removed from the air conditioning unit. The front glass window also suffered damage from being struck by an object.
No suspects are known at this time. Owens was advised to contact the Trumann Police Criminal Investigative Division with any new information related to the incident.
The Trumann Fine Arts Council has been working on fundraising efforts to open the Maxie for the benefit of the community. The damages are disheartening to Owens and the council. Anyone wanting to donate to their effort to restore the Maxie may send their contributions to P.O.Box 185, Trumann 72472.
The next fundraising event will be the Annual Celebrity Waiter Dinner held at the First Baptist Church Family Life Center at 6:30 p.m. on Thursday, July 17.