Parent Center kicks off summer full of activities
Saturday, June 28, 2014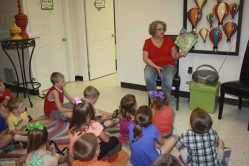 With the initial excitement of getting out of school dying out, children may find themselves bored sitting around the house; and parents may find themselves going a little crazy trying to find something to keep their children occupied. This summer, Trumann School District's Parent Center Coordinator Patti McWayne has scheduled at least one activity each week for students and parents to get involved with summer fun.
Last week, McWayne held a Barnyard Bash at the the Parent Center with a small animal exhibit provided by Fair Haven Farms. In honor of the little visitors, McWayne read "Bob" by Tracey Campbell Pearson and "Not Now, Said the Cow" by Joanne Oppenheim and children crafted roosters. Refreshments were provided.
Summer story time will be held at the Parent Center, 119 North Magnolia Street, at 1 p.m. every Thursday until July 31st. Children must be accompanied by an adult to attend the events. The following activities have been scheduled: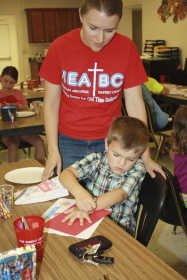 *June 26th-- Calling all cars! Fingerprinting will be done by the Trumann Police Department. Police hats and badge crafts will be done. "Officer Buck and Gloria" by Peggy Rathmann and "Policeman's Safety Hints" by Giovanni Caviezel's will be the reads for the day.
*July 3rd-- Happy 4th of July! Crafts and activities celebrating America's birthday are scheduled. "Red White and Boom" by Lee Wardlaw and "Apple Pie Fourth of July" by Janet S. Wong will be the reads for the day.
*July 10th-- Mustache Madness! Photo Booth and shaving cream finger painting activities will be held. "Moosetache" by Margie Palatini will be the read of the day.
*July 17th-- Mad Science Day will be celebrated with science experiments, crafts, and activities.
*July 24th-- Surf's Up Beach Day! Sandy crafts and activities will be held. "Life in the Ocean" by Claire Nivola and "At the Beach" by Alex Andrew will be the reads of the day.
*July 31st-- Let's Picnic! Fun park activities and crafts will be held. "Mimi and the Picnic" by Martin Waddell and "Picnic! A Day in the Park" by Lizlie Evans will be read.