Rev. G.C. Simpson celebrates 106th birthday
Saturday, July 5, 2014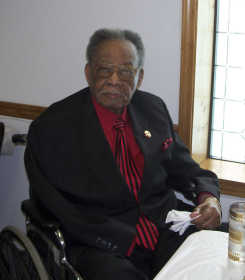 Rev. Dr. Grover Cleveland Simpson, Sr., celebrated his 106th birthday in Marked Tree on Saturday, June 28, surrounded by family and friends.
Even at 106 years old, Dr. Simpson's mind is still sharp and his voice is still strong. During the birthday celebration, he spoke about being called to preach and importance of God in his life. "Thank you for coming to witness my 106th anniversary," Dr. Simpson said. "If you live right, God will give you a long life."
Several people made presentations during the event, including one of Dr. Simpson's grandsons, Lambert McCoy. "Every time I tell people I'm going to my grandfather's birthday, they cannot believe he's 106," McCoy said. "If you listen to him talk, he's still as powerful today as he ever was. It's just a mighty blessing."
Sandy Teague with the Marked Tree Chamber of Commerce presented letters of congratulations from the chamber and Governor Mike Beebe along with a proclamation from Marked Tree Mayor Mary Ann Arnold. Charles Landrum, from Rep. Rick Crawford's office, read a letter from Congressman Crawford.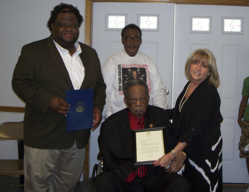 Dr. Simpson retired in 2010 after 72 years in the ministry. Among the many churches he served with, he was pastor of Union Grove Missionary Baptist Church in Gilmore for over 60 years, was pastor of First Baptist Church in Joiner for 14 years, was pastor of Pilgrim Rest Missionary Baptist Church in Blytheville for three years, and served as pastor for St. John Missionary Baptist Church in Marked Tree for over 50 years.
Dr. Simpson first joined the church in 1911 at the age of 13 at Pleasant Hill Missionary Baptist Church in Saulsberry, Tenn. He was called to the ministry in 1940 and preached his first sermon at Lake Grove Missionary Baptist Church in Jericho, Ark.
Dr. Simpson served as moderator for East Arkansas Baptist Churches for 37 years and was a trustee of Arkansas Baptist College in Little Rock for 15 years.
Dr. Simpson received a diploma in Theology from the Theological Seminary in Nashville, Tenn. and and an Honorary Doctorate from Arkansas Baptist College.