Wallaces named Poinsett County Farm Family of the Year
Wednesday, July 2, 2014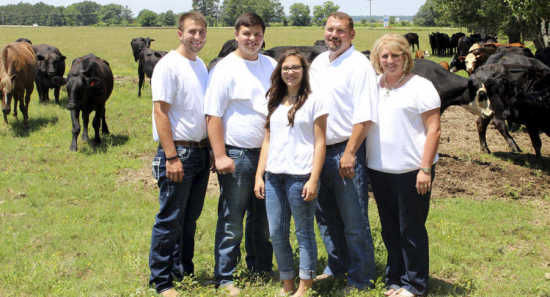 The David Wallace family have been named the 2014 Poinsett County Farm Family of the Year. Wallace has been farming for 23 years on the land south of Harrisburg that his grandfather cleared in 1957.
Farm Family of the Year has been recognizing farm families across the state since 1947. "Eighty percent of the land is farm production in Poinsett County," said County Judge Charles Nix. "Farm Family of the Year is a way to highlight those who excel in farming. When your peers feel you're doing a good job, there's no better compliment."
"As far as a true farm family from the ground up, this is probably the best complete Farm Family of the Year we've had," said County Extension Agent Craig Allen.
Everybody in Wallace family plays some role on the farm. Wallace's wife Lesleye takes care of the bookkeeping, his brothers--Mike, Donald and John--form a crucial part of the operation, his sons Calen and Cody bale hay and take care of the cattle, and his daughter Cidney has named new calves and helped with bottle feeding those that needed extra help.
"Without my brothers, I wouldn't be in business. I would have given up long ago," Wallace said.
"And it's not just his brothers," Lesleye Wallace said. "All the wives, nieces and nephews help out. We're all lucky to be together. We're all proud of our family and hope our children are wanting to take on the family farm some day."
Wallace also crediting his landlords with being important to the success of the farm. "Without good landlords, the farm would be in trouble," he said.
History
David Wallace grew up on the family farm south of Harrisburg. The land was cleared and farmed by his grandfather, the late Bill Wallace, in 1957. Then it was farmed by his father, Johnny Wallace, Sr. All the family worked on the farm until around 1985-86 when David's mother got sick and his father quit farming. David was 15 years old at the time and said others farmed the land for the next few years.
"Every year, I told myself, 'I am one year closer to being old enough to farm this ground again,'" Wallace said. In 1990, at the age of 19, Wallace approached the Bank of Cherry Valley about getting a loan to start farming that ground again.
"The bank decided to give me a chance," Wallace said. "With a lot of determination and not much equipment or money, I set out on my own to farm. Many older farmers and some friends told me that I couldn't make it work. They told me I was too young and immature. The more they told me that, the more determined I became."
Wallace started farming on 485 acres with a non-cab John Deere 4020 tractor, an old Case tractor, a square Eddins grain cart, and a John Deere 6600 Combine. The first couple years it was just him and an occasional friend or family member who would come help out during for a day or two during planting and harvest.
Wallace married Lesleye, who had been raised in town in Harrisburg, in 1992. They built their home on the family ground in 1994 and had their first child, Calen. Over the last 23 years, Wallace's brothers have come back to work on the farm, which has grown to 3,126 total acres with 2,462 acres rented and 664 acres owned.
The Wallaces grow 975 acres of medium grain rice, 1,564 acres of conventional soybeans, 228 acres of wheat, 105 acres of bermuda hay, and 295 acres of native grasses.
The Wallaces also raise livestock with 35 cow and calf pairs and two registered Hereford bulls.
"Our success has been from many answered prayers and the hard work of my three brothers and daddy," Wallace said. "They realize the importance of hard work, and with hard work and long hours, we can all benefit from it."
Raising cattle as a family
David Wallace loved cows when he was a kid, so when he started farming as an adult he thought his kids would also love them.
"I used to go to the sale barn with my dad and grandpa, and I always wanted to have some cows for myself," Wallace said. When Wallace's sons, Calen and Cody, were older, the family decided to start raising cattle.
In 2009, they bought 24 cow and calf pairs. "We took the cattle farming as a family affair," Wallace said. "We would ride down together to the pasture at the end of the day and admire the peacefulness of their grazing. They were not just a field of cows grazing, they were our pride and joy." When they started having calves, there were times when the Wallaces had to take sick calves home to bottlefeed them. And Cidney named most of them.
Wallace said they started off buying hay for the cows, but it seemed more feasible to bale it themselves. The next year, Calen and Cody started baling hay, some of which they bartered and sold to neighbors and locals as a way to learn economics and responsibility.
The Wallaces cattle and hay operation has grown to almost 70 cattle and nearly 400 acres of hay. "We hope that our cattle business, as with family farming, will be passed down to our children and theirs to come for many generations," Wallace said.
Family important to farming
David Wallace is a third-generation farmer. For him, farming runs in the family so much so that farming and family life are intertwined. Both of Wallace's grandfathers, Bill Wallace and Howard Woodham, were farmers. Now the whole family contributes to the farm in some fashion from Wallace's wife and children to his brothers and their families.
"With family, everybody takes care of it like they own it," Wallace said. "That makes all the difference in the world."
Because everyone has a personal stake in the farm, there is never any worry about someone not doing their job.
Outside of farming, Wallace's wife, Lesleye, is a special education reading and language arts teacher at Harrisburg Middle School for grades 5-8. She is also a Sunday School teacher at Calvary Baptist Church, where the family is actively involved, as well as Vacation Bible School Director and a Children's Ministry member.
The Wallaces' sons Calen and Cody both used to race, Cody having raced four different cars. They were also part of the first biodiesel operation in Harrisburg School's history through their EAST Lab class. Calen raises turkeys and works in the family garden. Cody participated in FFA, where he has shown rabbits and chickens.
The Wallaces' daughter Cidney helped her father name the cow and helped with bottle feeding calves and other work. And all three of the Wallace children help out with the technology of the farm and business.
According to Wallace, there is no better way to raise a kid than on a farm.