Delta 7's win district title
Monday, July 7, 2014
The Delta 7 year-old Machine Pitch All-Stars won the district title this past weekend in Jonesboro. Delta lost their opening game to the Jonesboro 7's 6-4 before coming back to beat the Paragould 7's 7-6 to finish 1-1 in pool play.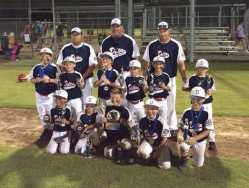 Delta downed the Blytheville 7's 10-7 before avenging their earlier loss to the Jonesboro 7's with a 9-8 win. The championship game saw Delta beat NEA Central 10-5 to win the title.
Team members of the Delta 7's are: (Harrisburg) Axel Heeb, William Rowton and Eastin Gray, (Lepanto) Sam Hosman, (Marked Tree) Cash Gillis and Tate Swink, (Bay) Will Cossey, Kaden Hartley and Bryson Smallman and (Trumann) Xander Bishop, Cayden Richardson and Braxton Trego. Coaches are: (Harrisburg) Jeremy Gray and Brody Heeb, (Bay) Jordan Rapert and (Trumann) Chad Bishop.
Congratulations from the Democrat Tribune and good luck at the state tournament.