Edna Juanita Whittingham
Wednesday, July 16, 2014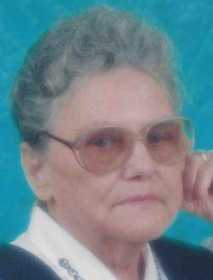 TRUMANN - Mrs. Edna Juanita Whittingham, 87, of Trumann died July 6, 2014 at Flo & Phil Jones Hospice House in Jonesboro. Mrs. Whittingham was born in Lepanto. She was retired from Singer Co. and was a member of First United Pentecostal Church in Trumann.
She is survived by her husband of 37 years, Raymond Whittingham of the home; one daughter, Lavonda (Lonnie) Taylor of West Memphis; two sons, Raymond (Diane) Whittingham, Jr. of Trumann and Russell (Donna) Whittingham of Little Rock; three brothers, Donald (Bonnie) Knapp and Nolan (Linda) Knapp both of Flippin, and Joe (Donna) Knapp of Olive Branch; one sister, Elouise Miller of Jonesboro; six grandchildren; and five great-grandchildren.
Funeral service were July 9 in the chapel of Thompson Funeral Home in Trumann with Bro. Matt Daniels and Bro. Dale Mackey officiating. Burial followed in Nichols Cemetery near Lepanto.
Pallbearers were Durrell Newell, Charlie Hicks, Earnie Nichols, Michael Adams, Jacky Tarver, and Joe Wheeler. Honorary pallbearers were Charles Snyder, Eugene Mott, Bud Blasingame and L.D. Gibson.
Lasting memorials can be made to Flo & Phil Jones Hospice House, 1148 E. Matthews Ave., Jonesboro, Ark 72401.
An online register book can be signed at www.thompsonfuneralhome.net