Shinabery's granddaughter named ACH Ambassador
Friday, July 18, 2014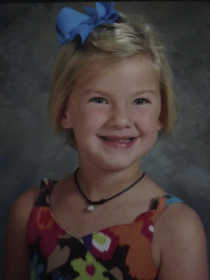 Anna Shinabery of Jonesboro, the granddaughter of Becky and Randy Shinabery of Marked Tree, was recently named one of Arkansas Children's Hospital (ACH) Ambassadors of 2014.
Born premature, it took seven weeks for doctors to find what was wrong with Shinabery, as she suffered numerous problems that showed no outward signs. She was eventually diagnosed with Kaposiform Hemaginoendotheliomam (KHE), a rare but serious non-cancerous vascular tumor that caused many life-threatening problems.
For the first year of her life, she spent many months at ACH undergoing treatment. The hospital was only one of three in the United States at the time that was able to treat Shinabery's diagnosis.
Today, her parents, Lee and Kerri Shinabery, praise ACH for how they worked with their daughter and family during the tough time. Their daughter attends all events in Northeast Arkansas that promote the hospital.
"As an ambassador, it's about her showing what a good place we have at our back door," her father said. "It is one of the most renowned in the United States, and we are very privileged to have it so close. It is a remarkable place with remarkable people."
Shinabery recently celebrated her 7th birthday on July 9. She was released from her last specialist at ACH in 2013, with no permanent effects from her condition. Mr. Shinabery said she does not remember her time in the hospital, which is good.
"Looking at her today, you would never know. She is a very outgoing young lady," Mr. Shinabery said.